Post originally appeared on Pro Sports Notes
January 22, 2019
What to make of the insinuations that Carson Wentz is "selfish"
What to make of the insinuations that Carson Wentz is "selfish"
Posted on January 22, 2019
It was supposed to be a good week. The Saints lost and got the karma that was coming their way, Adam Schefter reported that Carson Wentz would be ready by OTAs, and also the Sixers are playing well! Unfortunately, however, a reporter decided he was going to ruin that for all of us. A story was published yesterday morning suggesting some extremely negative things about Wentz. But what should we make of this story?
A recap of the Wentz story
The article suggests that Eagles players have universal love for Nick Foles, but not for Wentz. It insinuates that Wentz "bullies" coaches into doing what he wants on the field. The article also suggests that "anonymous sources" in the form of players and coaches describe Wentz as 'selfish' 'egotistical' and 'uncompromising'. The writer also says that Wentz 'doesn't like to be questioned.'
The story then continues on to say that Wentz 'caused friction within the offense.' There's also a weird comparison to Andrew Luck for absolutely no reason, and once again exploitation of the "favoriting Ertz" narrative even though Foles and Wentz had nearly the same average targets per game to all the receivers.
Why I, and most fans, have a problem with this article
The article states that the writer compiled information over the last two months. Two months ago, the Eagles were 4-6 and had just lost to the Saints. It was a rough time and emotions were raw. Not only does he use that to exploit the situation for his own agenda, but he also insults Wentz several times in the article, saying his "aw-shucks, overgrown-Opie-from-Mayberry routine plays well with the local and national media ." Come on, am I supposed to take your article seriously after reading that? No way.
The writer is a historic Wentz hater. He previously said that the Eagles were turning into the Cleveland Browns for drafting Wentz and continued from there.
This is also the same guy that suggested DeSean Jackson, not Chip Kelly, was the problem in the locker room way back when.
There might be some truth to players getting irritated, especially in a time frame where there were some issues on the field that needed to be sorted out. However, I have an enormous problem with a writer trying to paint one of the most humble, kind, and well-liked human beings in such a negative light. The article also used the word "sources" about 30 times, and I just really find it hard to give credibility to that.
Eagles players jump to Wentz's defense
I absolutely could have told you this part would come. Furthermore, several players current and past have already come to the defense of Wentz in the midst of this debacle. Fletcher Cox, Brandon Brooks, Lane Johnson, Jason Kelce, Torrey Smith, Nate Sudfeld, and Wendell Smallwood all took to social media immediately to defend their QB. Kamu Grugier-Hill, Stefen Wisniewski, Malcolm Jenkins, and Chris Long have also jumped in since then as well.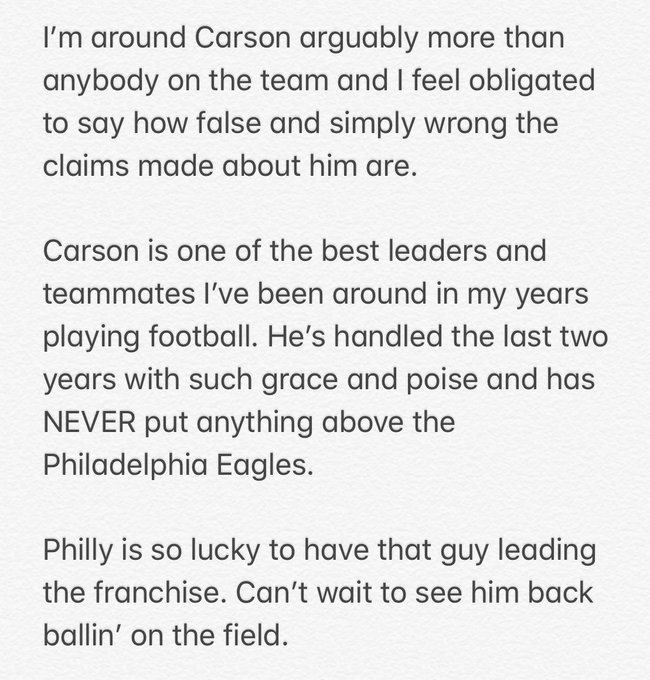 Don't even have to read this article and I bet my new born child 99% of this is ? https://t.co/UZgc133gkp— Torrey Smith (@TorreySmithWR) January 21, 2019

Should we be concerned about this story?
Personally, I don't think we should be concerned at all. I don't have a problem with thought-provoking articles that pose some possible questions to the fanbase to think about. I think they create interesting discussions, hence why I enjoy writing them. However, as a fan, I don't like causing this kind of commotion about a guy like #11.
I mean the guy has a free food truck that drives around Philly for crying out loud. He hosted a charity softball game and more than 25 of his teammates attended. I'm sure some of these points are truthful. However, in the article, I think it was taken too far. Wentz is a competitor. He knows what he wants. He's a little bit stubborn. However, the Eagles knew exactly what they were getting on draft day and these are all reasons why they knew Wentz was their guy.
Lastly, he's the franchise moving forward and that's exactly the way it should be. Furthermore, building a franchise around Wentz sets the Eagles up for a solid 10+ year run.
So, let's leave this article behind and move forward with more important things, please.
Featured Image: James Anderson via Flickr