Post originally appeared on Pro Sports Notes
June 1, 2018
Social media hiatus – it's necessary
Image: Rosita Cortez via Flickr
Social media hiatus – it's necessary
Posted on June 1, 2018
A social media hiatus is NECESSARY
In this day and age, everything is on social media. All athletes, owners, coaches, managers, staff, and personnel have social media accounts. Whether it is Twitter, Instagram, Facebook, or Snapchat, every detail of everyone's life is documented. As an athlete in the public eye, your actions, tweets, pictures, and posts are closely examined. The world of Philadelphia Sports has been blowing up since Tuesday. And since then, it has only gotten worse. Anyone currently or formerly associated with a Philadelphia sports team needs to take a social media hiatus until everything calms down.
A breakdown of this eventful week – Sixers addition
Well, first of all, last week reports came out that Sixers Rookie of the Year hopeful, Ben Simmons had broken up with singer girlfriend Tinashe. The reasoning being she was acting like a Kardashian and being too public about their relationship on social media.
However, Tuesday, it was reported that Simmons is ACTUALLY DATING A KARDASHIAN. Photos were released this morning of the Sixers point forward and Kendall Jenner going into a hotel together.
Not two minutes after the news broke, the Kardashian curse was in full effect. The story about Sixers GM Bryan Colangelo and his "burner" Twitter accounts broke.Immediately, Joel Embiid, being the social media phenom that he is, took to Twitter to poke fun at the story about Colangelo.View image on Twitter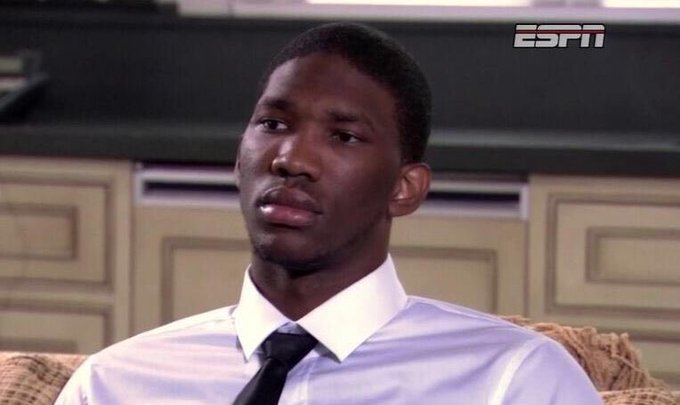 BRUH66.8K10:45 PM – May 29, 2018 · Philadelphia, PA14.5K people are talking about thisTwitter Ads info and privacy

Joel told me that @samhinkie IS BETTER AND SMARTER THAN YOU @AlVic40117560 #BurnerAccount44.8K11:00 PM – May 29, 2018 · Philadelphia, PATwitter Ads info and privacy16.5K people are talking about this
Embiid not only shared some of his own thoughts but went through the accounts and favorited all negatively written tweets about himself. Joel did say, however, that he did not believe the story. But if it was true, he said it would be very bad. This was just Tuesday night's events alone.
Wednesday, Simmons' ex-girlfriend Tinashe was spotted in a club…WITH NONE OTHER THAN DONOVAN MITCHELL. While I applaud her pettiness, this didn't help the social media circus. Of course, social media had a field day with this one in the midst of the ROY debates.
On Thursday, news broke that Colangelo's wife, Barbara Bottini is the person of interest in the ongoing investigation into "Woodergate" or "Collargate" as the scandal has so lovingly become known. Reporters polled players on their opinions of the matter. They said they wouldn't be able to trust Colangelo if the accounts belonged to him or anyone close to him.
This officially made the Sixers drama for the week too much to handle.
Continuing with the basketball theme
Even though we are continuing with basketball, the next topic also brings the Philadelphia Eagles into this social media issue.
Last night was Game one of the NBA Finals. Lebron James was sensational, as usual, scoring 51 points in an overtime loss to the Golden State Warriors. At the end of regulation, JR Smith pulled one of the worst moves in NBA history. He secured an offensive rebound after a missed free throw by George Hill. With only a few seconds left on the clock, JR did not call a timeout. Instead, he dribbled out the clock. Naturally, social media exploded.
Embiid again took to Twitter to share his thoughts on the matter:

Jr is on that henny lol116K11:29 PM – May 31, 2018 · Philadelphia, PA39.3K people are talking about thisTwitter Ads info and privacy

He's really tryna take that Shaqtin A fool MVP from me lmao41.6K11:31 PM – May 31, 2018 · Philadelphia, PATwitter Ads info and privacy8,523 people are talking about this
After the loss, James did what all great leaders do and defended his teammate. This is where former Philadelphia Eagle, Freddie Mitchell decided to involve himself in the conversation.

I gotta respect @KingJames for standing up for his teammate. McNabb would never do that for me. @espn8,48411:35 AM – Jun 1, 2018 · Philadelphia, PATwitter Ads info and privacy3,958 people are talking about this
The former wide receiver took a full shot at Eagles former quarterback Donovan McNabb. He didn't carefully hint at McNabb being a poor teammate. He announced it to the world AND tagged ESPN in the tweet. It was a gutsy move by a guy who is not a fan favorite.
Why we need a social media hiatus
This is an extremely crucial time for Philadelphia Sports for many reasons. All four of our major sports teams are at critical points. The Flyers are looking to push back into the playoffs next season. The Eagles are looking to repeat as Super Bowl champions. The Phillies are playing well with two ace pitchers and looking to make a playoff run. Lastly, the Sixers are going into the biggest free agency season the franchise has seen in 20 years. The social media activity is putting a bad light on Philadelphia. We already have such a bad reputation, and this will not help.
Do you think Lebron wants to escape one Kardashian just to be stuck with another? Nope. Do you think he wants a GM accused of tweeting out confidential team information? Absolutely not. Do you think he wants another media circus? Zero chance.
Do you think the Eagles organization wants McNabb back on ESPN bashing players? No way.
How we move forward
Social media has become a norm in our society today. And while it's wonderful to see old friends baby pictures, connect with folks you've lost touch with, or stay up to date on news, there are many negatives as well.
As much as I love Embiid for the character he is, I think he will get himself in trouble with social media. And while I don't want the team or the league regulating his tweets or his personality, I don't want him bringing negative light on himself or the team. Once you hit send, the information is out. Once it's out on the internet there is no deleting. These athletes need to be aware of this. However, especially the younger guys, are learning quickly. Anyone currently or formerly associated with a Philadelphia sports team needs a social media break until all of these messes calm down, and we can move on. This needs to be resolved. It needs to blow over without more scrutiny.
Hopefully, we can move on to another Super Bowl and to the Lebron Sixers era. But, the social media issues need to stop.
Featured Image: Rosita Cortez via Flickr