Post originally appeared on Pro Sports Notes
January 7, 2018
Pro Bowl and All-Pro Snubs help out the Reigning Champs
Featured Image: Zennie Abraham via Flickr
Pro Bowl and All-Pro Snubs help out the Reigning Champs
Posted on January 7, 2019
Congratulations due for the players selected to the Pro Bowl
The Eagles had three players selected to the 2019 Pro Bowl. Congratulations are absolutely in order for Zach Ertz, Brandon Brooks, and Fletcher Cox for being selected. All three players have had fantastic seasons and are well deserving of their selections.
Some All-Pros also deserve some kudos
There were two Eagles selected as All-Pros as well. Jason Kelce and Fletcher Cox were both first team selections.
Here's where the disrespect came in, starting with Jason Kelce
There are a few guys that absolutely deserve to be on those lists. However, they are not. Let's start with the obvious. Jason Kelce is the best center in the NFL. He was recognized on the All-Pro team but there is no reason that he should not have made the Pro Bowl. He ranked number two in pass coverage amongst centers, and number one in run blocking. PFF has him ranked as the number one center which is absolutely accurate. They named Kelce an alternate for the Pro Bowl, but still. Disrespectful.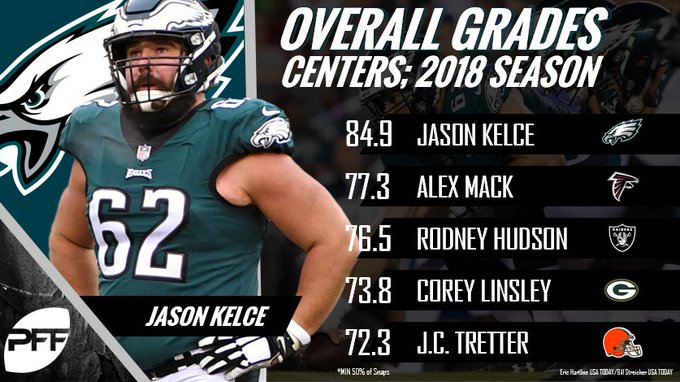 Another guy only making 1 of 2, Zach Ertz
Ertz is definitely in the conversation for the best tight end in the NFL. It depends on who you ask, but there are arguments for Travis Kelce, Ertz, and George Kittle all as the best tight ends. Obviously, the argument can be made that Ertz's numbers were inflated this year because of his absurd number of targets. However, he was still catching everything that came his way. I mean did you see the one grab against the Bears? That's what he's been doing all season, therefore it's nothing new. There is no reason he shouldn't be an All-Pro. However, he wasn't selected.

Next up, Malcolm Jenkins
Jenkins is one of the best safeties in the NFL and has been one of the best safeties for the last seven or eight years. He has played every snap this season on defense for the Eagles. The starting strong safety selection for the Pro Bowl is Landon Collins. Collins has 96 total tackles this season, zero sacks, zero interceptions, four passes deflected, and one forced fumble. However, Jenkins totaled 99 tackles, one sack, eight passes deflected, one interception, and three forced fumbles. You do the math there.
Michael Bennett not named as an alternate in the Pro Bowl
Michael Bennett was second on the team in sacks and quarterback hits. He was third in the NFL in quarterback hits. He was constantly getting pressure. I get that there are a lot of good linemen in the NFL but not even as an alternate? Come on.
The most egregious of them all – Lane Johnson
Johnson is the best right tackle in the NFL. Period. No questions asked. Aaron Donald did not get a sack, JJ Watt did not get a sack, and Khalil Mack did not get a sack. Johnson shut them all down. Why? Because regardless of the talents of Donald, Watt, and Mack, Johnson played better. Donald was a unanimous All-Pro selection. He also made the Pro Bowl. Watt and Mack are also Pro Bowl starters as well as first-team All-Pros. But, they couldn't make it passed a guy who was named to neither.
It's outrageous, but it might be helpful
As much as I would love to see our players constantly recognized for accolades they deserve, that's never going to happen for the Philadelphia Eagles. No matter how many Super Bowls titles won, Philly will always be the underdog, but our guys will always play with a chip on their shoulder. Honestly? I don't mind it. Going into playoffs I'd take a pissed off and slighted Lane any day of the week. The same thing goes for Kelce, Jenkins, and Ertz. Therefore, keep disrespecting the Eagles, and they'll keep proving you wrong.
Featured Image: Zennie Abraham via Flickr
Stats via NFL.com