Post originally appeared on Pro Sports Notes
December 29, 2018
Playoff hopes still alive for the Birds after a dramatic win over the Texans
Featured Image: Smashdown Sports News via Flickr
Playoff hopes still alive for the Birds after a dramatic win over the Texans
Posted on December 29, 2018
Some things to love and hate, but the playoff hopes for the Eagles remain
It's been a roller coaster of a season so far and going into the final week, that isn't about to change. The Eagles have let us down repeatedly, but still found a way to win the key games and keep our hearts invested. Their playoff hopes are still alive after a dramatic, final second win against the Houston Texans on Sunday. It was an early Christmas gift! Here are a few things to love and hate after the game.
Thing to hate #1: All NFL refs should be fired
Now, luckily I can't say that the refs played a factor in the momentum of this game or anything like that. The referees have been absolutely abysmal across the entire league this season. I have had to discuss the incompetence of the refs too many times this season for it to be acceptable. The only one I want to address is the non-call of the facemask penalty on Jadeveon Clowney. That's unacceptable on SO MANY LEVELS. First of all, he made contact with Nick Foles's head which is a penalty. Then he essentially ripped his head off. All I have to say, is if our very humble, even-keeled, Christian quarterback jumps up and starts yelling in the referee's face? You know there is something wrong. It's disgusting.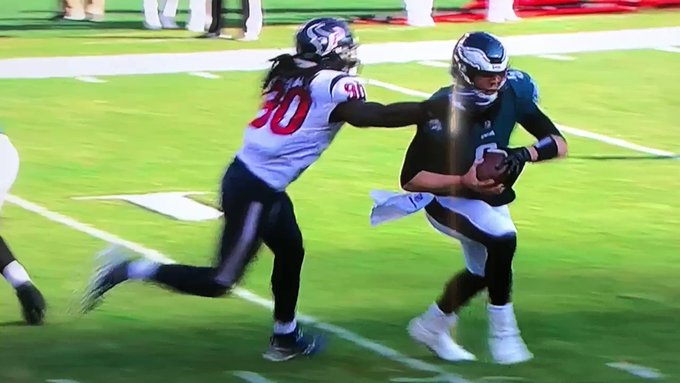 Thing to hate #2: Not all just the refs, the self-inflicted wounds have to go
All of the flags are not just on the refs being terrible. Some of them are on the Eagles absolutely. There were way too many holding calls on the offensive line on Sunday. If the Eagles are going to continue to keep their playoff hopes alive, they need to clean that up immediately. Most of the penalties were on Halapoulivaati Vaitai trying to stop Clowney coming off the edge. Personally, I'd rather Vaitai hold and get a penalty than have Nick Foles get killed or his head almost ripped off again. In a perfect world, he would just do his job and block the guy without holding and Foles would stay clean, but that's just too much to ask.
Thing to hate #3: The fact that some Philadelphia fans have turned this into a quarterback controversy
We need to put an end to this split in the fanbase once and for all. Carson Wentz is the quarterback of this football team. It is more likely than not that Foles will not be an Eagle next year. Instead of whining and complaining about who is better or who should start let's look at this logically. Foles won the Super Bowl. Wentz is the reason they were set up in the best position to get to the Super Bowl. There is a reason Foles was not sought after post-Super Bowl. There is a reason the Eagles took Foles out when Wentz was ready to go.
Instead of going back and forth with stupidity, just be an Eagles fan and cheer for whoever is under center and support the team. Stop with the foolishness because that's exactly what these conversations are.
Thing to LOVE #1: Jake Elliott in crunch time
Elliott did it AGAIN for the Eagles to keep those playoff hopes alive. He missed an extra point early in the game that looked like it might come back to bite the Eagles in the butt. But, when it mattered most, he came in clutch and gave them the win…all we needed!
Thing to love #2: We had a Nelson Agholor sighting!
This is a guy who I thought was perfectly primed for having a breakout star year. I even drafted him in multiple fantasy leagues because I thought he was going to put up some huge numbers. I was very wrong. Now, we can attribute that to a handful of things, but regardless, it was great to see Nelly out there making some big plays and getting involved again.
Thing to love #3: The secondary finally getting it together
Now this secondary has been playing together for a few weeks, it finally looks like they're starting to get it together. DeAndre Hopkins is just too good for anyone. That was whatever. But, he was the only open option for DeShaun Watson especially down the stretch. The younger guys who were picked up off the street a few weeks ago are starting to gel with the rest of the defense and they're playing as a complete unit.
Let's also reiterate that we got an absolute STEAL in Avonte Maddox. That kid is going to be really good for years to come. He shows that he can play exceptional football in three different positions. I'm excited to see him continue to develop as a player here.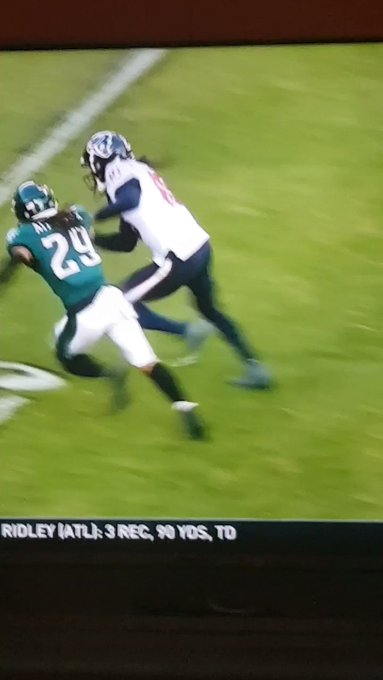 Thing to love #4: The Ageless Mighty Mouse
There was a reason the Eagles didn't IR Darren Sproles and just let him eat up a roster spot for 10 games. They need his dynamic style on the field. He is sensational out of the backfield and makes plays that no one else can. He might have lost a slight step, but he's still an extremely effective and reliable back, as we saw on Sunday. He's so great. I wouldn't be surprised if he stays around just one more year.
Thing to love #5: The unquestioned toughness and grit of Foles
It's impossible not to love this guy. I get extremely emotional when it comes to the Eagles. When I saw Foles get rocked and not get up, I cried. I can't explain why, but that's just where my heart is when it comes to the Eagles and where their playoff hopes are. It was a sensational atmosphere when the fans started chanting "FOLES! FOLES! FOLES!" and he got back on his feet and jogged off. When he came back in the game, you just felt that they were going to win. We really should just be so thankful that we have the two quarterbacks that we do. No other team can say that.
The playoff hopes are only 50% in the Eagles hands
As we go into the last weekend of the season, we are Eagles fans but also Bears fans. The Eagles need to win their matchup with the Redskins, but we also need the Bears to beat the Vikings. The Eagles coaches have done their best to encourage the NFC North champs to play their hardest in the regular season finales. All we can do is wait and hope. Let's go Birds and Bears!
Featured image via Flickr James Anderson