Post originally appeared on Pro Sports Notes
May 24, 2018
NFL anthem rule: how will it impact the NFL?
Image: Darryle Carter via Flickr
NFL anthem rule: how will it impact the NFL?
Posted on May 24, 2018
The new NFL anthem rule
The NFL has released their new rules and policies regarding the national anthem protests. In a statement released by Roger Goodell, he details the new NFL anthem rule:View image on Twitter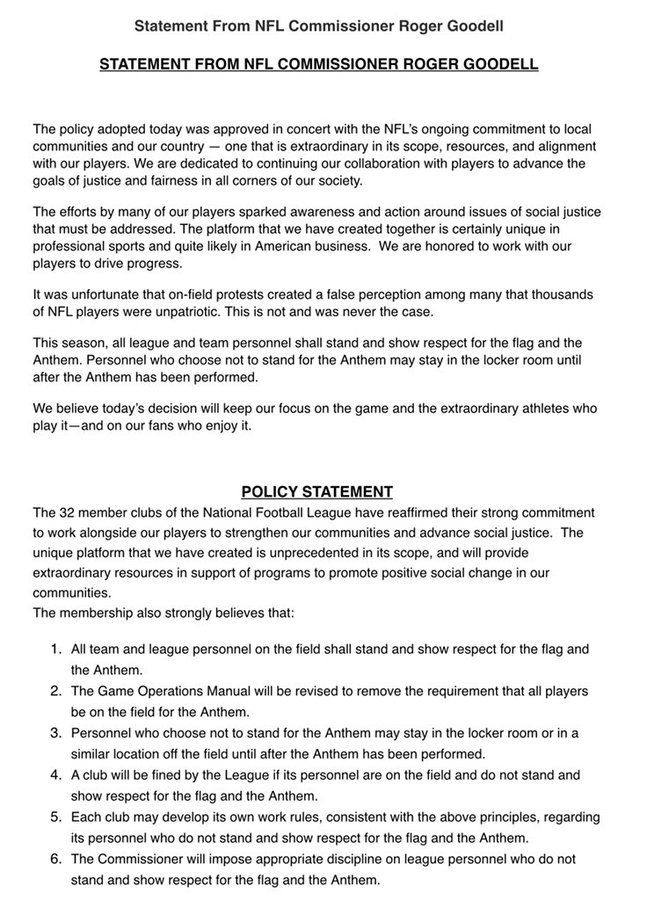 Statement from NFL Commissioner Roger Goodell4,56312:24 PM – May 23, 20187,920 people are talking about thisTwitter Ads info and privacy
This caused several responses from players and owners alike. The new anthem rule is the hottest topic of conversation right now.
Politics aside, what does this mean?
I would like to objectively look at this rule without getting political. We need to keep politics out of football, regardless of what our president has said or called players, and regardless of what our vice president has tweeted in regards to the new NFL anthem rule.
With that being said, regardless of your political view, it needs to be understood first and foremost the purpose of this protest. This was NEVER about the flag. It never intended disrespect to our troops or anyone who puts their lives in danger for our freedom. The flag is a symbol of freedom and the rights that we have as Americans, given by our constitution. Some of our football players and countless more citizens of our country feel like "freedom" should be in quotes. There are too many news stories about police brutality. THAT is why our football players are protesting. If you saw the video of NBA player Sterling Brown, surrounded by five police officers over a parking violation and then tased, you saw the reason for the protests.
Some players have taken a knee, some raise fists or place hands on their teammates' shoulders, some link arms, and others choose not to be present for the anthem at all. Even though all of these actions are different, they have one thing in common: they are peaceful protests and are protected by the constitution.
Now, this is simply a fact that peaceful protests are protected by the First Amendment of the constitution. The First Amendment states: "Congress shall make no law respecting an establishment of religion, or prohibiting the free exercise thereof; or abridging the freedom of speech, or of the press; or the right of the people peaceably to assemble, and to petition the Government for a redress of grievances."
The response in the NFL
Since the rule's announcement, it is the hot topic of conversation. Several athletes and owners have shared their opinions and viewpoints on the NFL anthem rule. 49ers owner Jed York did not vote on the new rule. Because of this, Roger Goodell still gets to claim a unanimous victory. Jets' owner Christopher Johnson said that he will pay any fines his players are subjected to because of the new rule.
Eagles players Malcolm Jenkins and Chris Long have shared their thoughts on the matter via Twitter:View image on Twitter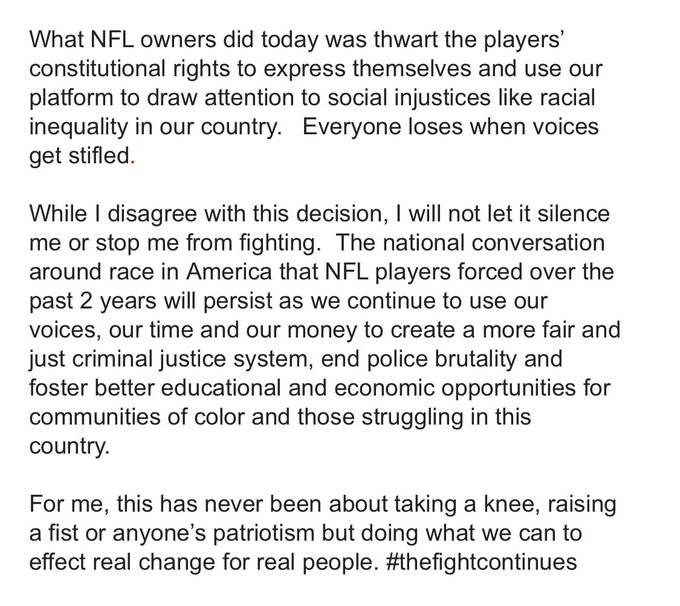 Malcolm Jenkins✔@MalcolmJenkins
#TheFightContinues20.7K5:02 PM – May 23, 20187,208 people are talking about thisTwitter Ads info and privacy
— Chris Long (@JOEL9ONE) May 23, 2018
Eagles owner Jeffrey Lurie also released a statement, but not really saying much:
"I have always believed it is the responsibility of sports teams to be very proactive in our communities. In this great country of ours, there are so many people who are hurting and marginalized, which is why I am proud of our players for continuously working to influence positive change. Their words and actions have demonstrated not only that they have a great deal of respect for our country, but also that they are committed to finding productive ways to fight social injustice, poverty, and other societal issues that are important to all of us. We must continue to work together in creative and dynamic ways to make our communities stronger and better with equal opportunities for all."
How this compares to other leagues
In the NBA, there has been a rule for decades that requires players stand for the national anthem. Initially, it was to prevent players from stretching or shooting or doing other pregame basketball activities that would distract from the national anthem.
In the midst of this ongoing discussion over the last year, NBA commissioner Adam Silver sent out a memo to all 30 NBA teams reminding them of this rule, but also including other ways the players could take initiative. One example of a suggestion was a public service announcement by players addressing the fans before a game.
The NBA has not had any issues regarding their rule of standing for the anthem. So why is the NFL anthem rule such a big issue in the NFL?
Here's why…
Reluctantly getting political, when the President of the United States referred to these men as "sons of bitches" it caused the bigger issue; a statement from the leader of our country who is supposed to stand for unity and equality. This protest has always been about equality and justice for all. There is no intention of disrespect. These players simply use their platform for the purpose of sparking social change.
Now, the rule states that it will change the former rule requiring all players to be on the field during the anthem. Also, the rule only states that players must stand. Other forms of peaceful protest like raising a fist or linking arms appear acceptable. Will the league punish these protests as well?
What will this change for the Eagles?
There have not been any Eagles players that have knelt during the national anthem. Malcolm Jenkins and Rodney McLeod raise their fists, as Chris Long stands with his hands on their shoulders. I believe that if any real change is made, it will come from Malcolm Jenkins. Colin Kaepernick deserves all of the credit for starting the protest and sparking the conversation. However, he continued with questionable comments and actions. Some of these comments even included bashing those who supported his protest. Jenkins met with Goodell and other members of the NFL several times with a goal of moving the league in a more positive and equal direction.
The Eagles are also in an interesting position as the Super Bowl champions. Their June 5th invite to the White House now holds a bigger influence. Several players have already declined the invitation. Doug Pederson and the upper management will attend. Carson Wentz said that if his teammates want to go he will attend as well. Because of the rule change and the president's comments on the rule that came out this morning, all eyes are on the Eagles to see what they will do. Some players might change their minds and attend in order to have a conversation with the president. More might decide not to go.
Regardless, the Eagles are now on the hot seat regarding this topic.
What to look for during the season
I think there will be a lot of players that choose to remain in the locker rooms during the national anthem. I think that the NFL players come together in times like this and they show their unity. They did so at the beginning of last season. The NFLPA released this statement regarding the new NFL anthem rule.View image on Twitter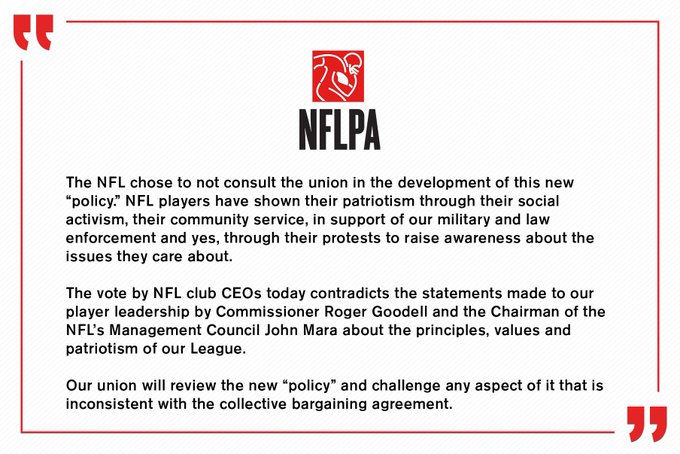 NFLPA✔@NFLPA14.7K12:24 PM – May 23, 20186,857 people are talking about thisTwitter Ads info and privacy
At the end of the day, the NFL is a business with a goal of making money. These protests lost the NFL money, therefore, it needs to be stopped (in their minds). The NFL put this rule in place without consulting the NFLPA, which is something the NBA would never do. Maybe the NFL should look to the NBA for guidance.
If the NFL wants the ratings and profits increased again, they should not televise the anthem. They should simply perform the national anthem before the players come on to the field.
Regardless of your political beliefs or personal view on this topic, it will be interesting to see how this continues to develop and unfolds when the season begins.
Featured Image: Darryle Carter via Flickr