Post originally appeared on Pro Sports Notes
August 24, 2018
Keeping up with the NFC East: What we've learned about the Redskins, Giants, Cowboys, and Eagles this week
Image: Keith Allison via Flickr
Keeping up with the NFC East: What we've learned about the Redskins, Giants, Cowboys, and Eagles this week
Posted on August 24, 2018
The reality show that is the NFC East
This week, the NFC East has seemed more like an episode of "Keeping Up with the Kardashians" than a football division. Just to make sure all of you Eagles fans are up to speed, here is a roundup of what has been happening in the NFC East this week,
Starting with our beloved Super Bowl champions
There is no way to sugar coat this. The Eagles look bad. I know it is "only preseason" and it "doesn't matter" but you'd be crazy to say you're not a little bit concerned. The score of the games are irrelevant but the performance by some of our starters especially is a little worrisome.
Nick Foles hasn't settled in and is missing throws. I am not going to harp on it because his frustration with himself last night was visible. However, all of the blame for the lack of offense does not fall on his shoulders.
The offensive line has looked abysmal. Reports said that Vaitai came into camp overweight and it appears as if he has taken a step backward. He seamlessly filled in for Jason Peters last year and now looks worse than in his rookie year. Not only was Vaitai getting beat on every play, other guys were as well. At one point against the Browns, Foles couldn't even take his three-step-drop because Vaitai and Lane Johnson were both pushed upon him. The protection has been terrible.
I understand that we are missing key starters, but there is still some concern for the play by the starters that are out there. They need to lock in and buckle down in the next two weeks. On a positive note, however, Isaac Seumalo did a nice job filling in for Jason Kelce at center. Seumalo is a center by trade, but his snaps during camp and in open practices hadn't looked too great.
Something else we learned this week is the potential reason Mack Hollins hasn't been around too much. He had sports hernia surgery in the offseason. Hopefully, he'll be good to go in two weeks.
An interesting week for the Giants
The Giants first-round pick, Saquon Barkley returned to practice this week after "tweaking" his hamstring a few weeks ago. Barkley had not practiced in 10 days and did not play in the Giants last preseason game against the Lions. On Wednesday, Barkley got some work in during individual drills as well as team drills with the first team offense.
According to the running back, he'd feel comfortable playing week one without any more preseason time. The Giants are being cautious with Barkley because the last time their first-round draft pick injured his hamstring during the preseason, he ended up missing the first four games of the regular season. That guy was Odell Beckham Jr. The last thing the Giants want after going 3-13 in 2017? Losing the number two overall pick by not taking care of his injury properly.
.@saquon gives the latest on his injured hamstring.4862:45 PM – Aug 22, 201895 people are talking about thisTwitter Ads info and privacy
Speaking of OBJ, it wouldn't be right if he wasn't in the news during the week for something football and non-football related. First, reports surfaced last night that the Giants and OBJ are going to have a huge deal done by the regular season. Which, for Eagles fans, is great news considering that will create a very disgruntled Julio Jones and Atlanta Falcons organization going into the season opener. Unfortunately, it appears as if Beckham will lose some of that money to a lawsuit pretty quickly.
Apparently, during a club night back in March, some guy was beaten up. According to recently released video footage, Beckham stood there and watched. Allegedly this man's girlfriend was in the VIP section with OBJ and when the guy came to get his girlfriend so they could leave, Beckham was not happy. So then the guy got pummeled and he is now planning on suing the wide receiver. Good work OBJ.
The Redskins looking to boost their running game
During the first week of preseason, Redskins rookie running back, Derrius Guice tore his ACL. The injury was a huge blow to the 'Skins, who were looking to finally establish a running game in a division that included Jay Ajayi, Ezekiel Elliott, and Saquon Barkley. To fill that new roster hole, the team brought in and signed Adrian Peterson to a one-year deal for the vet minimum. Last year, AP spent time with the Saints and the Cardinals tallying only 529 rush yards and two touchdowns. The once unstoppable running back is looking to make an impact in the NFC East.View image on Twitter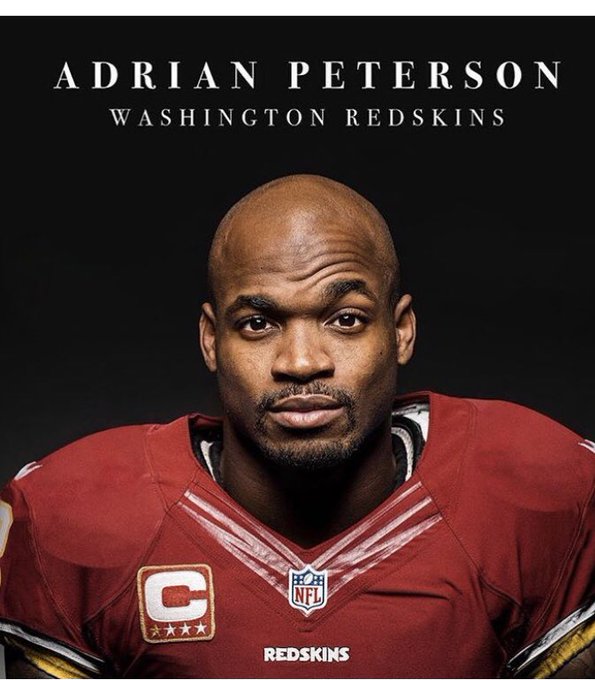 Adrian Peterson✔@AdrianPeterson
Everything happens for a reason. Wait on God and trust in him. He wants the best for us! He wants to take us from glory to glory, and from victory to victory. #faith #believe #redskins #allday18.6K9:33 PM – Aug 20, 20183,620 people are talking about thisTwitter Ads info and privacy
Lastly, the Cowboys
The Cowboys have had a number of injuries happen over the last month. Most recently, offensive lineman Travis Frederick was diagnosed with a rare auto-immune disease called Guillain-Barre syndrome. There is no timetable for his return. Frederick began receiving treatment and noted that he is feeling much better. Hopefully, this won't hinder his career and he'll be able to return to the field safely.
On a less serious note, I can't go without addressing the biggest joke of an individual in the NFC East. The Cowboys quarterback Dak Prescott has had an interesting few months. From gallivanting around Miami with penis shaped water guns to supporting some of Jerry Jones's outrageous comments to explicit pictures leaked on the internet, Prescott has continuously been in the news. It's been an…underwhelming…offseason for the third year QB to say the least. Classic Dallas Cowboys. Classic Dak.
Why keep up with the Kardashians when you can keep up with the NFC East?
There clearly was a lot of activity in the NFC East this week. Obviously half of these things have nothing to do with football. However, all of them have an impact on the teams and the players' focus. It will certainly be an interesting year for the NFC East on and off of the field.
Stats via NFL.com
Featured Image: Keith Allison via Flickr