Post originally appeared on Pro Sports Notes
October 2, 2018
Jim Schwartz firmly backs his Eagles defense, but admits there are some problems
Image: Keith Allison via Flickr
Jim Schwartz firmly backs his Eagles defense, but admits there are some problems
Posted on October 2, 2018
Jim Schwartz supports his guys on the Eagles defense, but they need work
It's no secret that the Eagles defense is not where it was one year ago. The secondary was the biggest question going into last season and they were able to pull it together enough to secure a Super Bowl win. We can't forget, however, that they still gave up 500 yards in the air to Tom Brady. Luckily, their high powered offense matched the Patriots. Now, the offense still hasn't quite hit its stride, there are several injuries on the offensive side of the ball, the offensive line isn't playing very well, and now the secondary is reeling after the loss of Rodney McLeod. During today's press conference, defensive coordinator Schwartz backed his guys but also said that they need to be better.
Schwartz backs Jalen Mills
First and foremost, the biggest uproar has been about Mills. Although the rest of the secondary is playing as poorly, if not worse, for some reason Mills is the main target. When asked about Mills playing time at the outside corner position Schwartz said he is "comfortable leaving Jalen at corner" and is "firmly behind Jalen Mills at corner". He also gave Mills a lot of credit saying that one of the reasons we had a parade down Broad Street is because of Mills. Schwartz also mentioned that he "epitomizes a lot of things we're about defensively."
Sorry to all of you Eagles fans calling for Mills' benching. It ain't gonna happen.View image on Twitter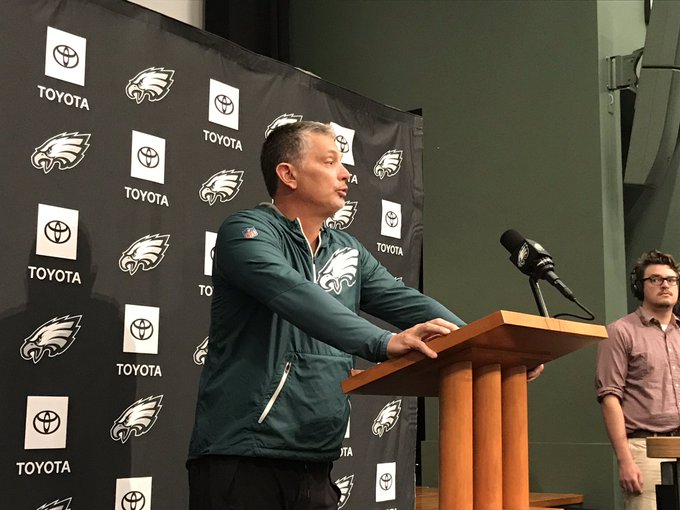 Jim Schwartz: Firmly behind Jalen Mills at CB. …4th-and-15 was "incredibly disappointing." …Wanted to be aggressive with zero blitz on final TD. …Like Avonte Maddox at FS. …71 snaps probably too many for Corey Graham. …Team's 2 plays away from 0-4. Have to face that.132:16 PM – Oct 2, 2018See Sheil Kapadia's other TweetsTwitter Ads info and privacy
Putting Avonte Maddox in there at safety
Schwartz noted that we will be seeing more of Maddox on the field at safety. There might be some personnel changes, might be some guys moving around, but Schwartz does not discuss those things.
He said Maddox did some good things and did some bad things. Schwartz described him as a smart player that will be good for the Eagles defense as time goes on.
What he's seen from Sidney Jones
Similarly to Maddox, Schwartz had some positive and negative things to say about Jones. He mentioned that he is playing suspiciously like a 2-2 player. He makes great tackles like a key stop on a 3rd down, but then had some "bad warts late."
Where the defense is as a whole
The defensive coordinator discussed the final play of the game, noting that it was an all-out blitz and the guys were in man coverage. He said, "we were one-on-one and we paid for it". Maddox happened to slip and was able to make up some ground but ultimately was too late. However, there was no excuse for the 4th & 15. Schwartz said that when it's something like a 4th & Inches you have to defend "every blade of grass" on the field, which is very hard, but "damn if we shouldn't expect to win every 4th & 15."
Corey Graham says it was a really dumb play by him on 4th and 152325:22 PM – Sep 30, 2018 · LP Field119 people are talking about thisTwitter Ads info and privacy
He noted that he thought his Eagles defense played a really good first half but the second half was inconsistent. He took responsibility for loss for the Eagles defense. Jim said that it's their responsibility to win when the offense gives them a 14 point lead in the third quarter.
Schwartz wants more consistency out of his defense. He doesn't like that they are well deserving of the 2-2 record because they are playing like a 2-2 team.
"We've played suspiciously like a 2-2 team"
Schwartz was extremely candid when asked about their level of play on the defensive side of the ball. He said they've played well as a defense when they haven't given up big plays and they need to get back to that. He mentioned that they're playing "suspiciously like a 2-2 team". Most importantly, Schwartz noted that he could point out about a dozen plays that would make them a 3-1 team, but they are also two plays away from being 0-4.
He is trying to leave as many guys in their positions as possible after the McLeod injury. It's "hard to gain consistency" when you have a bunch of guys all playing where they aren't comfortable. He also mentioned that 71 snaps for Corey Graham is too much. All in all, Schwartz is confident in his Eagles defense to get it done, but they need to be more consistent. He took some time to quote one of his players and said: "to quote Malcolm Jenkins, 'we all we got, we all we need'".