Post originally appeared on Pro Sports Notes
August 29, 2018
Insider trading: Former Eagles linebacker Mychal Kendricks is busted
Image: a_passe via Flickr
Insider trading: Former Eagles linebacker Mychal Kendricks is busted
Posted on August 29, 2018
Insider trading charge for former Eagle
It looks like the Eagles have once again dodged a negative press bullet. Reports surfaced this morning that the federal government charged former Eagles linebacker, Mychal Kendricks, with insider trading.
What the report says about the insider trading
According to the reports, the Browns player traded cash and Eagles tickets to a friend, Damilare Sonoiki, in exchange for non-public information. Sonoiki is currently a television writer for the show, Black-ish.Kendricks allegedly made about $1.2 million in profits from four different investments. According to the U.S. District Attorney for the Court of Eastern Pennsylvania, Kendricks and Sonoiki could both face a good amount of time if convicted.According to the court documents released by the government, in 2014, Sonoiki tipped Kendricks off to four different corporate acquisitions that his investment bank was advising before they became public. From there, Kendricks then used the information to purchase securities in those companies. The former Eagle then rewarded Sonoiki with various kickbacks including Eagles tickets and visiting the set of a Teyana Taylor music video.
Kendricks's response to the insider trading charges
The linebacker issued a statement today about the charges:View image on Twitter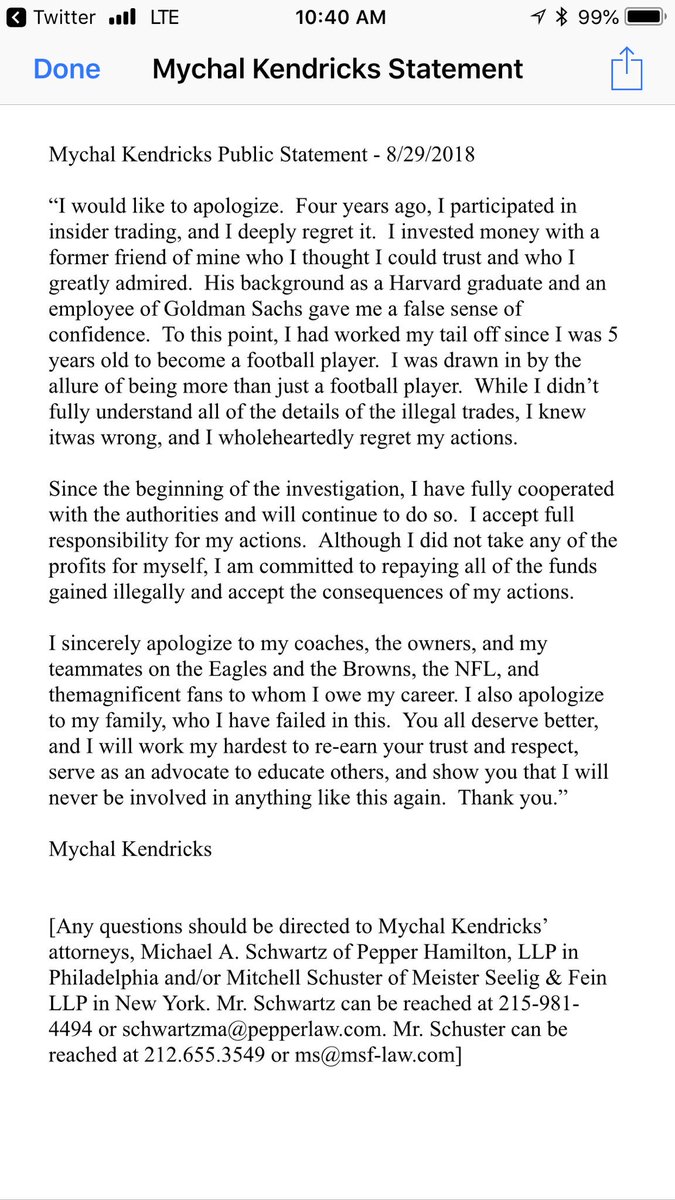 A statement from #Browns LB Mychal Kendrick, who has just been charged by the feds for insider trading. Wow.3,81010:42 AM – Aug 29, 20182,421 people are talking about thisTwitter Ads info and privacyThe statement comes just one day after criticizing the Eagles for a second time on Hard Knocks.The Eagles had been trying to trade Kendricks for a few years because of an over the top contract given to him by Chip Kelly. In his six years with the Eagles, Kendricks tallied 343 tackles, 14 sacks, and three interceptions. The Eagles released him after the 2017 season.Well, it looks like they were able to get rid of the guy just in time. And hey, maybe we figured out why the guy was such a let down for a few years in there. Clearly, he was too focused on things other than football. According to Mike Garafolo, the Browns had no idea of the possible charges when signing the linebacker.Here is the statement released by the team regarding the charges:View image on Twitter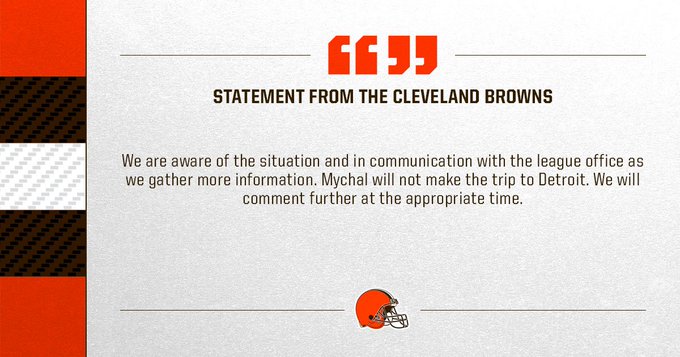 Our statement on LB Mychal Kendricks:63310:54 AM – Aug 29, 2018352 people are talking about thisTwitter Ads info and privacyIt will be interesting to see what comes of this on a federal and league level. The Browns could take action, the NFL could enforce a punishment, and obviously, there is the risk of jail time if Kendricks is convicted. However, I think Eagles fans are breathing a sigh of relief this is not swarming our locker room. Not only that, but I can assume that some are even thinking karma might have had something to do with this after his negative comments bashing the Eagles. I know SEVERAL Eagles fans had a problem with this one.
Drama avoided
Let's see how this plays out. And let's also thank the football gods (and Howie Roseman) that this is not the Eagles problem. Unfortunately for the Browns, they just can't catch a break. Oh well. Eight days until the banner drops. Go Eagles.
Stats from NFL.com
Featured Image: alexandriapasse via Flickr