Post originally appeared on Pro Sports Notes
September 19, 2018
http://www.prosportsnotes.com/eagles-sign-receiver-matthews/
Image: Tim via Flickr
Eagles re-sign former wide receiver Jordan Matthews
Posted on September 19, 2018
An adjustment at the wide receiver position
The Eagles are making some moves to fix their woeful wide receiver situation. Yesterday, after offensive coordinator, Mike Groh's press conference, it was clear that not only would the Eagles be without wide receiver Mike Wallace for a while, but there is a chance running back Jay Ajayi could miss Sunday's game.
So the logical move was to bring up Josh Adams from the practice squad and release Wendell Smallwood right? Nope. The Eagles released DeAndre Carter, the young receiver who played a good amount of snaps the first two weeks. Hours later, former Eagles wide receiver, Jordan Matthews, was spotted walking into the NovaCare Complex.View image on Twitter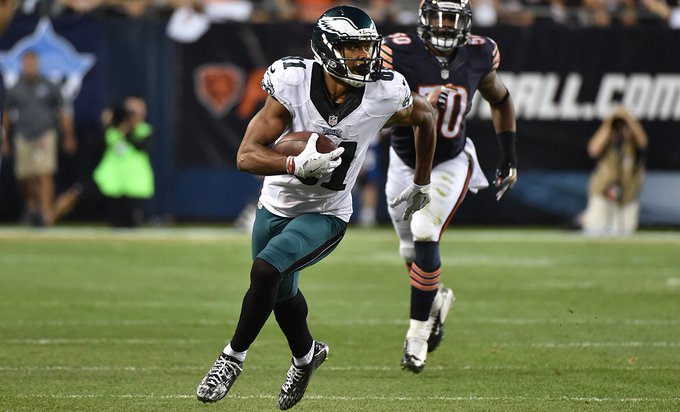 Roster Move: #Eagles have signed WR Jordan Matthews and placed WR Mike Wallace on Injured Reserve.

#FlyEaglesFly6,9128:18 AM – Sep 19, 20181,919 people are talking about thisTwitter Ads info and privacy
Eagles signed Jordan Matthews
Signing Matthews was the best logical move. They now have a new receiver and one that will be ready to go for Carson Wentz's season debut on Sunday. He knows the offense, he has good chemistry with Wentz, and he was a solid receiver for us a few years back.
I know there are two sides of the fan base on this move. The side that is excited (me) and the side that simply thinks this is an "eh" move by the Eagles and might not get the job done. Let's talk about it.
Why is Matthews a good choice for the Eagles?
Well, let's start with the fact that Jeremy Maclin would be another good choice. However, he couldn't work out for the Eagles until next week because he's hurt. So. Not a good sign to start for Maclin, but moving on to Matthews.
Matthews was a reliable third wide receiver for the Eagles in his first two years. It wasn't until he was made the number one receiver in 2016 that he began to "struggle". Let's call a spade a spade. He's not a number receiver. He's not "The Guy". However, he is a really good compliment to "The Guy".
In his first two years, 2014 and 2015, he totaled 872 and 997 yards respectively. He also scored eight touchdowns in each of those seasons. In 2014 and 2015 combined, he had 30 catches of 20+ yards and five catches of 40+.
In 2016, when he was the number one guy, he began to struggle a little bit. Granted, the ENTIRE offense struggled a little bit in Doug Pederson and Wentz's first year. There were so many dropped balls throughout the team that each one felt worse than it was sometimes. There's a reason that Howie Roseman went out and got Alshon Jeffery, Torrey Smith, LeGarrette Blount, and Ajayi. The offense needed WEAPONS. However, in Matthew's last year with the team, he played in 14 games totaling 804 yards and three touchdowns.
As a compliment to a Pro Bowl level Nelson Agholor, Zach Ertz, and Dallas Goedert, Matthews could fit right in. He would also be a nice compliment to Jeffery too.
He WILL help this offense for the time being
Will it solve all of the Eagles problems at wide receiver? I don't know. Will he help the offense a little bit? Yes. I think it's a good place to start, but it's still a long season. Either way, Go Birds and Welcome back to Philly JMatt!

Welcome back, @jmattjmattjmatt. #FlyEaglesFly9,8538:36 AM – Sep 19, 20182,582 people are talking about thisTwitter Ads info and privacy
Featured Image: palm_goodness via Flickr
Stats: NFL.com