Post originally appeared on Pro Sports Notes
September 26, 2018
Eagles Injuries: Alshon Jefferey cleared for contact and more
Image: Sportsbook Review via Flickr
Eagles Injuries: Alshon Jefferey cleared for contact and more
Posted on September 26, 2018
Eagles Injuries going into Tennessee
The Eagles injuries have been the biggest problem for the last year or so. Between losing seven guys to the IR last season, to losing Mack Hollins and Richard Rodgers before the season, then losing Mike Wallace it has been a mess. The Eagles struggled to piece together enough offense to win over Indianapolis. Now, looking ahead to this week's matchup against the Tennessee Titans, the Eagles look to get some of their key players back in the lineup.
The headliner – Alshon Jeffery CLEARED for contact
Doug Pederson announced in his press conference this morning that doctors cleared Alshon Jeffery for contact. He did not announce whether Jeffery would play Sunday or not. He said it all depends on how Jefferey deals with being "bumped around" at practice. Obviously, practices aren't live but the contact aspect will be the most important determinant for the Eagles.
Pederson said he wants to "make sure the player's right before we put him out there." He also mentioned that in regards to how Jeffery will affect the offense, it will give the Eagles "a shot in the arm." Hopefully, the number one receiver is back this week, adding another target for Wentz.View image on Twitter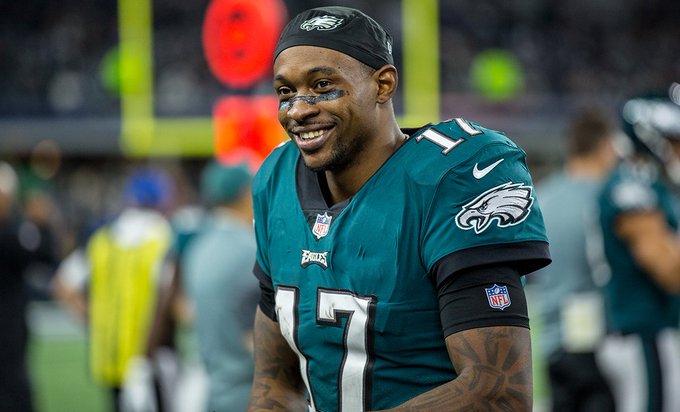 According to Coach Pederson, Alshon Jeffery has been cleared for contact.#FlyEaglesFly10.9K10:43 AM – Sep 26, 20182,670 people are talking about thisTwitter Ads info and privacy
Some positive-ish news about Rodney McLeod
Eagles key safety Rodney McLeod left the game early on Sunday after taking a helmet to the knee. From the looks of it live, the way McLeod was rolling on the ground, it didn't look good. Luckily, it doesn't seem like anything is majorly torn or broken. McLeod was in positive spirits yesterday telling the media he felt good. This morning, Pederson said they were waiting on one final test result to determine if McLeod is good to go.
SPORTSRADIO 94WIP✔@SportsRadioWIP
.@Rodney_McLeod4 says he's feeling good now, but still has a few more tests. "I feel fine, I'm staying positive and back at work today." #Eagles1812:04 PM – Sep 25, 2018Twitter Ads info and privacySee SPORTSRADIO 94WIP's other Tweets
Hopefully, if there was something REALLY wrong, they'd already know. McLeod is a gamechanger on defense and losing him would be a huge blow.
The running backs we've been missing
The Eagles injuries haven't been nearly as heartbreaking so far (knock on wood), but they have been crucial. The injuries to two of our four starting running backs are no exception. Darren Sproles missed the last two games with a hamstring injury and Jay Ajayi missed last week's matchup against the Colts with a back injury. Luckily, Pederson said on Monday that both guys were day-to-day barring any setbacks and he is hopeful both guys will be available Sunday.
Corey Clement and Wendell Smallwood did a nice job taking over on Sunday, but as we clearly saw against Atlanta in the season opener, Ajayi is a game changer and the run game is successful when he is in there. There's a reason the Eagles traded for him and there's a reason he is our number one running back.
Getting some juice back on offense
We haven't seen the same high powered offense the Eagles showed us in 2017. Most of that is due to the Eagles injuries this season. With guys like Jeffery, Ajayi, and Sproles getting healthy, it's time to kick it up a notch. The Birds were able to piece together enough offense for a 2-1 record, but with the difficulty of their schedule coming up, 20 points scored won't cut it. Hopefully, with Jeffery back, defenses will focus less on guys like Nelson Agholor and Dallas Goedert, allowing for Carson Wentz to find more openings as well as getting the run game going as well.
This matchup on Sunday is no easy task, but with some of these guys back on the field, I think they will get it done.
Featured Image: Sportsbook Review via Flickr