Post originally appeared on Pro Sports Notes
August 14, 2018
Camp Injuries: Updates from Doug Pederson on the Eagles injuries
Image: Andrew Kenney via Flickr
Camp Injuries: Updates from Doug Pederson on the Eagles injuries
Posted on August 14, 2018
Camp injuries for the Birds
The Eagles came into training camp this year with several injured players including Carson Wentz, Jason Peters, Alshon Jeffery, Brandon Graham and more. There have been several camp injuries as well. Multiple key players missed time periodically through camp, but there are a few concerning camp injuries that have been brought to our attention over the last few days.
The progression of Jeffery
There have been reports that Jeffery could start the season on the PUP list. Today in his presser, Coach Pederson said that he has "no idea" where those reports came from, however, there is a chance that might be the case. Pederson said that he's "happy" where Jeffery is and he's a guy whose progression will be evaluated soon.
The continuing saga of Wentz
As the season approaches, there is more and more speculation on the status of Wentz's knee. Pederson said they will discuss the next step of his progression this weekend after the preseason game against the Patriots on Thursday. Coach also mentioned that in order for Wentz to be the week one starter he'd need to have at least a full week of 11 on 11 practice. At this point, it is really all up to the doctors for Wentz. He said he feels good, but said, "it's going to be close."View image on Twitter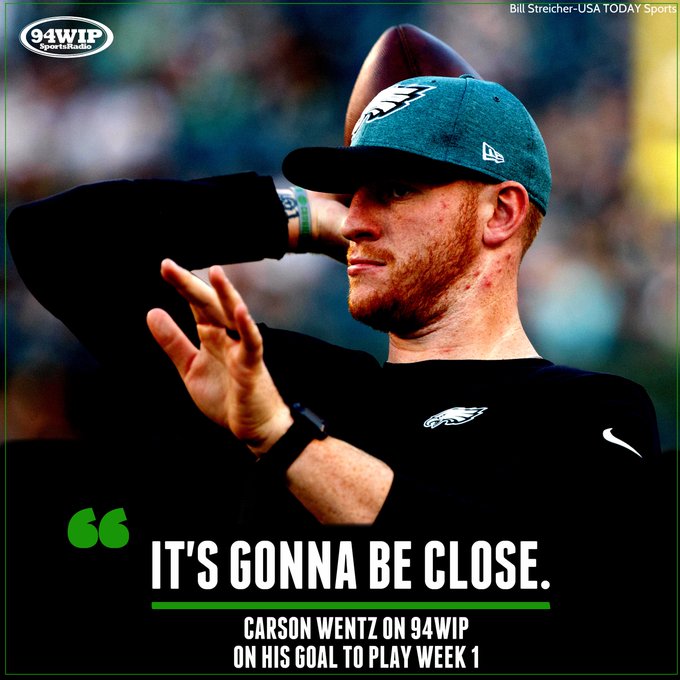 SPORTSRADIO 94WIP✔@SportsRadioWIP
Hurry, but take your time. #FlyEaglesFly5412:12 PM – Aug 14, 2018See SPORTSRADIO 94WIP's other TweetsTwitter Ads info and privacy
Status of Graham
Graham played the final few weeks of the season on a high ankle sprain. He is another guy Coach mentioned is continuing his rehab and progression. Graham's injury is another one on the list that will be evaluated this weekend after the preseason game.
Brandon Lee Gowton✔@BrandonGowton
Pederson won't say if he expects to have Brandon Graham Week 1. #Eagles2511:28 AM – Aug 14, 2018Twitter Ads info and privacySee Brandon Lee Gowton's other Tweets
The mysterious absence of Nelson Agholor
Fans noticed during the preseason game against the Steelers that Agholor wasn't on the field. He was also absent from the open practice on Saturday morning as well. Nelly has not been practicing for the last six days. Today, Pederson told reporters that it was a lower-body injury to Agholor. He did not specify any further but mentioned he wants the receiver to get the rest so he can be ready for week one against Atlanta.
Yesterday's injury to Corey Clement
Yesterday after catching a ball Clement got up and limped off the field. He did not return after that. Along the same lines as Agholor, Pederson said Clement has a "lower body" injury and will be resting in order to be ready for week one.
Other injuries
There are a few other players who are injured and missing practice time that has not been commented on. Mack Hollins has missed a few days of practice. Donnel Pumphrey and Markus Wheaton were both absent from the first preseason game as well as a few days of practice. Those are two guys that are hoping to make the roster and unfortunately, missing time due to lengthy injuries won't help. Josh Adams left practice early yesterday after dealing with an injury earlier in camp. Jalen Mills also left practice early today. There are no updated reports on their status.
Dallas Goedert was also back in 11 on 11 practice today after false reports that he would miss significant time with a broken arm.
What does this mean for the season?
Hopefully, the injuries to Hollins and Mills are nothing to worry about. Coach did not seem concerned with the status of the camp injuries to Agholor and Clement. One positive that comes from injuries is the ability for other players to get more reps. This will help them get more comfortable in their roles on the team. This way, if one of these players were to go down during the season, the next man up won't miss a beat. For the starters who have a locked roster spot, this is not a concern if the injuries aren't serious. However, for guys that are trying to make the 53-man roster, it's a different story. Wheaton's chances of making the team are declining with every completed catch to guys like Shelton Gibson and Bryce Treggs. Adding an injury is not favorable.
Another guy lowering his chances is Pumphrey. The Eagles were extremely high on Pumphrey and kept him even after a rough 2017 training camp and preseason. Other guys fighting for a roster spot like Wendell Smallwood and Matt Jones now have openings to make the roster. Especially with injuries to Pumphrey and Adams, their chances increase. Adams showed glimmers of his talents against the Steelers but injuries definitely hurt his chances.
It will be interesting to see how the roster shakes out because of these injuries, and if some players can turn it around and clinch their spot.
Featured Image: Andrew Kenney via Flickr