Post originally appeared on Pro Sports Notes
December 12, 2018
Are you ready for the return of the Super Bowl MVP?
Featured Image: Jose Diaz via Flickr
Are you ready for the return of the Super Bowl MVP?
Posted on December 12, 2018
The Super Bowl MVP returns to where his season started in 2017
Nick Foles heard his number called back on December 10, 2017 in the Los Angeles Coliseum. Foles came in and led two field goal scoring drives, and a drive that chewed up the majority of the clock, ultimately ending the Rams' chances at a comeback. He would go on to take care of business for the Eagles. He helped clinch their first-round bye. Then he secured home-field advantage in the playoffs. And then ultimately lead the Eagles to their first championship title. He capped it off by winning the Super Bowl MVP. Now, after going into the season as the starter and sitting upon Wentz's return, it looks like Nicky Franchise might be back under center.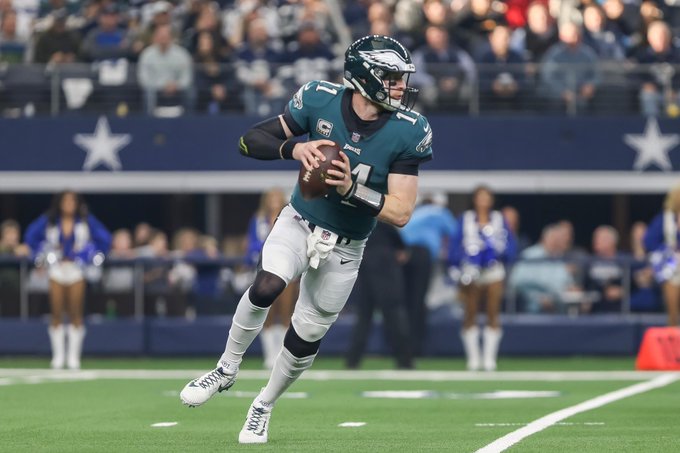 Wentz possibly sidelined with a back injury
In head coach Doug Pederson's press conference this morning, he immediately started by addressing the injuries without prompt. He gave an update on Tim Jernigan, Corey Clement, Josh Sweat, Avonte Maddox, and Jordan Hicks. He then continued to slide in, "oh and one more added to the list is Carson Wentz." Pederson went on to explain that Wentz is experiencing some back soreness and stiffness and has been dealing with it most of the season.
Going back to week four, right after Wentz made his 2018 debut in week three, he appeared on the injury report with some back stiffness. The Eagles listed him as limited in a handful of practices with the issue for the entire season. However, it seems as if now is a different circumstance.
Is Wentz's back REALLY that serious?
To answer this question, personally, I don't think so. Wentz is a competitor, and nothing other than a tear of some kind is going to keep him out of a football game. This move makes sense in the longterm. At this point, the playoff chances are so slim that it's not worth Wentz taking a beating from the Rams and then the Texans defense and risking another serious injury. Get him healthy so he can have a full offseason and set his sights on a 2019 dominant comeback.
THE RETURN OF THE SUPER BOWL MVP
There is a light at the end of the tunnel though, Eagles fans. Our backup quarterback, our 2017 hero, our savior, the Super Bowl MVP himself, St. Nick is ready to step out on the field. Foles was rewarded for his Super Bowl deliverance by his paycheck in the offseason. The Eagles could have easily traded Foles away and gotten a decent piece or draft pick in return. However, the team wanted to do the right thing by their Super Bowl MVP, and kept him in Philadelphia where he wanted to be.
It is clear that Nate Sudfeld is being conditioned to be our backup quarterback going forward. These last three games for Foles could help him raise his stock a little bit to get a job somewhere else in 2019 if he wants to continue his football career. Most likely, the Eagles won't keep him here another year, so this could also help him out.
And hey, there's still a CHANCE that the Eagles make the playoffs. And if someone has to step in as a backup and handle some business, that's a job for St. Nick. It starts with a win in Los Angeles, which Foles accomplished before. The season isn't over yet Eagles fans! Maybe Foles will lead the way for another big run! Go Birds!
Featured Image: Jose Diaz via Flickr