Post originally appeared on Pro Sports Notes
November 13, 2018
A loss to Dallas: A few things to love and hate about the Eagles after this horrendous loss
Image: Joe Shlabotnik
A loss to Dallas: A few things to love and hate about the Eagles after this horrendous loss
Posted on November 13, 2018
A loss to Dallas is NEVER easy
I needed an extra day to process the loss to Dallas. Nothing makes me feel sicker to my stomach than seeing Jerry Jones, Dak Prescott, and Zeke Elliott smile on our field after a win. I don't even know what to say or think after this loss. The Eagles have way too much talent on this roster to perform the way they currently are. There is no excuse for the fact that the Eagles have lost three straight at home, however, here are a few things to love and hate after the shameful loss to the Cowboys.
Thing to hate #1: The predictable play calling
Let's start with the first 15 plays. We all know that Doug Pederson is an Andy Reid guy. We knew that going in that there would definitely be some hints of Big Red in there. Looking at it from an objective point of view, Andy Reid is arguably the best coach in Eagles history, but he just couldn't get us over the hump. He's proven in Kansas City that he is a great coach, however, has yet to coach a team to a Super Bowl victory.
That being said, Doug Pederson has become more predictable than Andy Reid ever was. His first 15 scripted plays are below average at best. There is no creativity and even rookies are jumping all over the plays. Leighton Vander Esch discussed his interception and basically said it's exactly what he saw on film he knew exactly what the Eagles were going to do. THAT IS NOT ACCEPTABLE FROM A SUPER BOWL WINNING COACH WHO WAS ALSO UP FOR COACH OF THE YEAR. It makes you begin to wonder how much Frank Reich and John DeFilippo really did contribute to the offensive scheme last season. A big chunk of this loss to Dallas falls on the playcalling of Pederson; however, there are multiple other things that add to it.
First career pick for the first-round pick Leighton Vander Esch.1209:36 PM – Nov 11, 201846 people are talking about thisTwitter Ads info and privacy
Thing to hate #2: Apparently, the run game means nothing
Continuing with the playcalling woes, what the heck is going on with the running game? The Eagles started using the running backs early. All three backs, Wendell Smallwood, Josh Adams, and Corey Clement came out running hard, hitting holes, and finishing their runs strong. However, they abandoned the run once again. There was no point in the game where the Eagles were down by so much that they HAD to abandon the run game. It was unnecessary. If the run game was that bad, they should have brought a running back in here at the trade deadline.
Thing to hate #3: Red zone productivity
What I didn't know until Jon Marks and Ike Reese mentioned it on WIP last night was that John DeFilippo's role in last year's offense was more than just the quarterbacks' coach. He was also the red zone coordinator. That explains a lot about the Eagles struggles in the red zone this year as compared to last year.
As fans, we thought losing DeFilippo and Frank Reich wouldn't affect this team. However, we were so incredibly wrong.
Thing to hate #4: Carson Wentz needs to get rid of the ball faster
This is the first game that I think Carson Wentz is a little bit of the reason the Eagles lost. He is just holding the ball too long. Some of these plays need to happen much quicker. And if he's going to hold the ball that long he needs to take off running again. He needs to keep defenses humble by keeping that threat as a part of his game. Even if it's just to get a few yards here and there it just adds another dimension to the offense that we are currently missing.
Thing to hate #5: This year's injury bug might be worse than last year's
Players on IR:
Mack Hollins
Richard Rodgers
Mike Wallace
Rodney McLeod
Derek Barnett
Jay Ajayi
Ronald Darby (soon)
Paul Worrilow (before the 53-man roster)
Players who have missed games due to injuries this season:
Darren Sproles
Haloti Ngata
Alshon Jeffery
Tim Jernigan
Sidney Jones
Jalen Mills
Lane Johnson
Corey Clement
Corey Graham
Deiondre Hall
Nate Gerry
Chris Maragos
I just listed 20 names for you of injuries that have affected the Eagles this season. I don't think I need to elaborate on why I hate this. Obviously, things like this happen. But two years in a row? Come on.
Also, now we've lost our best corner for the rest of the year. This is just terrible.
Thing to hate #6: The poor play on defense
The Eagles are supposed to have one of the best run defenses in the league. So why did Ezekiel Elliott have his way with the defense? Who knows.
The Cowboys can't beat you if you force Dak Prescott to do it himself. He didn't need to do it on Sunday. He was able to hand the ball off to Zeke, get the run game going, and he threw in a few key passes when needed. The Eagles secondary could not possibly be more depleted, and it showed in the loss to Dallas on Sunday.
One aspect that was apparent is the Eagles missed Jalen Mills. Everyone has been so hard on Mills this year and down on his play, but clearly, Jim Schwartz was right when he said Mills is the best person for the job. Where we really missed Mills on Sunday? His tackling. Jalen Mills is fantastic in making open-field tackles. That is not the case with anyone else in the Eagles secondary. There were several initial tackles missed in the loss to Dallas that Jalen Mills would have made.
Thing to hate #7: Eagles fans reaction to Golden Tate
Listen. Golden Tate showed up at the NovaCare complex only two weeks ago. Football plays are extremely complex, the terminology is different everywhere, and it takes some time for it to stick and become second nature.
For those Eagles fans freaking out that it was a wasted trade and he wasn't used enough: chill. The Eagles went up-tempo in the second half and as Doug Pederson said, it would not have been fair to Tate to just toss him out there. He already looked a little bit lost and the last thing they needed was a turnover because Tate didn't run the right route. Relax. That is the least of our worries. If we weren't talking about a loss to Dallas, we wouldn't be having this conversation.
---
Thing to love #1: Michael Bennett
Bennett is under contract for the next two seasons. In a year where the Eagles are struggling, Bennett has been a consistent bright spot on the field for the Birds. He has 5.5 sacks on the season including the two monster sacks on Dak Prescott in the loss to Dallas.
Michael Bennett with the Rock Bottom 51711:09 PM – Nov 11, 2018173 people are talking about thisTwitter Ads info and privacy
Thing to love #2: Josh Adams is going to be a really good player here
The hometown kid is showing glimmers of what he can do if he actually gets handed the ball. Right now we're dealing with Carson Wentz throwing the ball 45+ times per game, but when Adams gets the ball, he runs hard and makes a difference on the ground. I think the Eagles need to use him more because he can be a weapon for us.
Thing to love #3: Eagles fans booing
I love a good "boo" from the Eagles fans. I think Peter King sounds ridiculous when he wrote that it was "bush league" for the Eagles fans to boo the team at halftime. However, I personally think that statement is bush league and clearly, he knows nothing about Eagles fans.View image on Twitter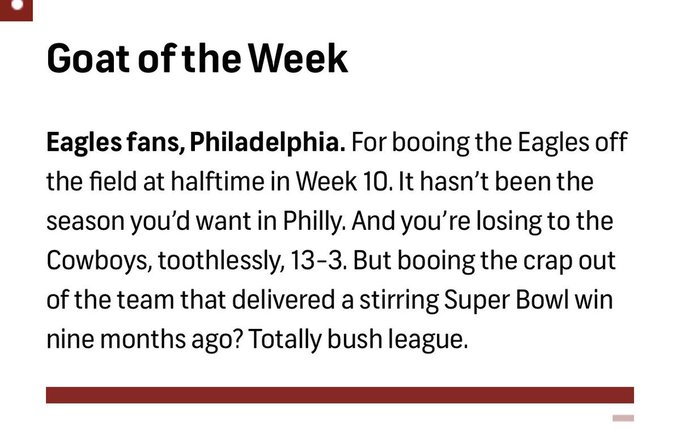 Peter King had some things to say about the Eagles fans last night…1128:02 AM – Nov 12, 2018163 people are talking about thisTwitter Ads info and privacy
Like it or not, Eagles players actually respect the hell out of their fans because we are always honest and we keep them humble. They know what the Super Bowl meant to the city, but they also know that this city isn't going to change because of it. We demand a lot out of our athletes. However, the athletes who THRIVE in this city are the ones that respect that and demand a lot out of their teammates and themselves.
SPORTSRADIO 94WIP✔@SportsRadioWIP · Nov 12, 2018


"But booing the crap out of the team that delivered a stirring Super Bowl win nine months ago? Totally bush league." — @peter_king https://94wip.radio.com/eagles-fans-peter-king-boo …Peter King rips Eagles fans for booing3rd-and-15 at DAL 35 | 0:58 in 2Q | Prescott pass short left to M.Gallup pushed ob at PHI 40 for 25 yards.94wip.radio.com

No the fans are just holding our Philly teams accountable. You can live with mediocrity but the city of Philadelphia won't. We set the bar67812:14 PM – Nov 12, 2018Twitter Ads info and privacy159 people are talking about this
There is too much talent on this roster to go into halftime against the Cowboys down 13-3. Boo away when the team deserves it Eagles fans. They know we mean it with all of the support in the world.
Where do we go from here?
We're at a difficult juncture here. Well, the Eagles sit at 4-5, in 3rd place in the division. The next three games after we play New Orleans are division games. Giants, Redskins, Cowboys. They can win all of these games. They have the talent but they need to execute. It will be interesting to see what Jim Schwartz does with personnel on the defensive side because of injuries.
It was a tough loss to Dallas on Sunday. There's no other way to say it. It sucked. But at the end of the day, we ride and die with our team. Let's hope for the best, but it just might not be our year. Either way, on to the Saints. Go Birds.
Featured Image: Daniel Osorio via Flickr
Stats via NFL.com