Post originally appeared on Pro Sports Notes
July 31, 2018
53-man roster prediction after week one of camp
Image: RSH3339 via Flickr
53-man roster prediction after week one of camp
Posted on July 31, 2018
Eagles 53-man roster prediction
Week one of training camp has come and gone. Now we are starting to see where the talent lies within this group of players. Obviously, there are certain players that we know will make the roster like Carson Wentz, Zach Ertz, Fletcher Cox and some others. However, by September 1st at 4:00 pm ET, each team must submit their 53-man roster for the NFL season. The same day, all players on the PUP list or Non-football injury list must either be switched to the inactive PUP list for the regular season, assigned to waivers, have their contracts terminated or traded, or be placed on the active list. Based on all of these factors, here is my prediction for the Eagles 2018/19 53-man roster.
Leading the offense is the quarterback
This position is probably the easiest to predict unless Howie Roseman decides to switch something up on us or do something at the last minute. However, I don't really see that happening. Although I do not believe that Wentz will start week one, the three quarterbacks on the roster will be the same as last year. They will need to keep Sudfeld because they'll need a backup for Foles in the early weeks of the season.
The quarterbacks making the roster:
Carson Wentz
Nick Foles
Nate Sudfeld
Continuing with the offense – the running backs
The running back situation is a little bit more interesting than the quarterbacks. Leading the way as our number one back this year will be Jay Ajayi, followed by Corey Clement at number two, and Darren Sproles doing Sproles things at number three. Other running backs at camp include Donnel Pumphrey, Matt Jones, Josh Adams, and Wendell Smallwood.
Pumphrey has bulked up a bit since last season and was initially drafted to succeed Sproles when he decided to retire. I think Pumphrey will make the roster based on his improvements from last season. He has put on some weight and now looks like he belongs on a football field. The former San Diego State Aztec had a bad training camp and a preseason that was average at best last year. He has already shown growth in camp and if that translates to the preseason, he should be able to lock in a roster spot.
I believe the Eagles will take five running backs into the regular season as they did last year. Josh Adams will receive that last spot. He's coming in at 6-2, 213 giving him the edge of a bigger running back. Adams, a hometown kid from Warrington, PA, racked up over 3,000 yards rushing at Notre Dame and averaged 6.7 yards per carry. If he can translate that talent over to NFL camp, he will secure that last roster spot over veterans Jones and Smallwood.
The running backs will be:
Jay Ajayi
Corey Clement
Darren Sproles
Donnel Pumphrey
Josh Adams
The wide receivers locks
This is one of the easier positions to predict based on guys returning from last year and free agent signings. Although his shoulder is not 100% yet, Alshon Jeffery is still going to be the number one receiver. The Eagles had to know what they were looking at with Jeffery's shoulder injury and felt confident enough in the recovery to give him an extension. Whether he is good to go for week one or not, Jeffery's spot on the roster is locked up.
Two others who are also locked in are Mike Wallace and Nelson Agholor. Agholor had a breakout season last year after an injury-plagued rookie year and a terrible sophomore year. He is continuing to shine in camp catching everything thrown his way and burning defenders with his speed. Wallace had a slow 2017 season with the Baltimore Ravens who won games only by defensive play. The former Raven has impressed at training camp mainly with his speed. Reports have said that Wallace is so fast even the QBs aren't ready for his speed. Wallace has had to completely stop in his routes and wait for the ball to come because he's just THAT fast. Not a bad weapon to have in an offense led by a guy trying to get the ball out of his hands quickly…
The last two receiver spots
The last two spots are a little fuzzier. Mack Hollins is poised to snatch the number four spot, based on his performance last season. He was a special teams starter, always giving 110% on every play. Hollins also proved he has some reliable hands in short and long distance situations. He caught a memorable 60-yard bomb from Wentz in a rivalry game on Monday Night Football against the Redskins.
My prediction is that the last spot will go to Shelton Gibson. Although it seemed like there would be a bit more competition from bringing in vets like Markus Wheaton and Kamar Aiken, that has not been the case. Buzz about Wheaton has been silent, meaning he's not doing anything special. Aiken was signed by the team recently, but the 29-year-old has been struggling with drops since his arrival. Gibson, on the other hand, has been turning heads. He has been catching everything, including a deep ball from Foles over both Ronald Darby and Malcolm Jenkins. It was a catch that left the veteran defensemen shaking their heads.
Gibson is impressive with his speed, and as a young guy who the Eagles used a draft pick for, he has the advantage for making the 53-man roster. He looks like a different player than last year and if they kept him then, they will DEFINITELY keep him now. Even Coach said, "he's studied, he's worked hard, he's done a nice job. He's off to a good start to this year's camp."
The Eagles will take five receivers instead of six, considering they were thin at offensive line and always had a receiver inactive:
Alshon Jeffery
Mike Wallace
Nelson Agholor
Mack Hollins
Shelton Gibson
The tight-ends, led by Ertz
The Eagles lost two out of three tight ends in the offseason. Trey Burton joined the Chicago Bears in free agency, and Brent Celek was cut by the Eagles to save some cap space. The Birds filled one spot via the draft and the other via free agency.
The Eagles selected Dallas Goedert with their first pick in the 2018 NFL Draft. Although Goedert technically went in the second round, the Eagles feel like he could have been a first rounder. He is another big threat, especially in the red zone. In the small amount of training camp that has gone by so far, Goedert has shown that he has exceptional hands, making tough catches in coverage. He has also made a few diving catches, proving he can hold the ball while going to the ground.
Although Billy Brown impressed the Eagles last year, I believe he will fall short again this season. Richard Rodgers is going to secure the number three tight end spot. With his veteran experience, and proven ability to make plays in crucial situations, Rodgers will be the final tight-end for the 2018 season. When going in three tight-end sets, Rodgers is getting reps with the first team. He has also shown some impressive catches in the first few days of camp.
The three tight ends on the 53-man roster will be:
Zach Ertz
Dallas Goedert
Richard Rodgers
The best offensive line in the NFL
The Eagles offensive line was the most dominant in the NFL last year. They did a phenomenal job protecting Wentz as well as keeping Foles off the ground in the Super Bowl. Last season's starting five linemen, Jason Kelce, Brandon Brooks, Lane Johnson, a healthy Jason Peters and Stefan Wisniewski are all returning. Also returning will be heavily improved Halapoulivaati Vaitai, who is a strong player. He didn't miss a beat when stepping in for Peters last season. This leaves two spots left open on the 53-man roster.
One player who has made a good impression so far during camp is sixth-round pick, Matt Pryor. With Brooks missing some practice time with an illness, Chance Warmack stepped in at the right guard position. The former first-round pick really struggled, committing a false start on the opening play, causing Doug Pederson to replace him immediately. Pryor took full advantage of the opportunity, putting himself into the conversation to make the roster.
Brandon Lee Gowton✔@BrandonGowton
Rookie OL Matt Pryor getting some first team RG reps with Brandon Brooks out today. Interesting. #Eagles5410:03 AM – Jul 29, 2018Twitter Ads info and privacy17 people are talking about this
Brandon Lee Gowton✔@BrandonGowton
Matt Pryor put Michael Bennett on the ground in OL vs. DL drill. #Eagles32511:03 AM – Jul 29, 2018Twitter Ads info and privacy67 people are talking about this
The second player who remains in the conversation is Isaac Seumalo. He saw some playing time last year in the left guard rotation before Wisniewski secured that spot permanently. The Birds like Seumalo because of his versatility. He can play the guard position as well as center and tackle. They throw him in as a bonus tight end as well. Offensive coordinator Mike Groh described Seumalo by mentioning an old saying in the NFL, "the more you can do, the more valuable you are. So he's got a lot of value right now."
I expect the Eagles to take 8 linemen on the 53-man roster this season:
Jason Kelce
Jason Peters
Lane Johnson
Brandon Brooks
Stefan Wisniewski
Halapoulivaati Vaitai
Matt Pryor
Isaac Seumalo
Moving to the locks on the dominant defensive line
Not only did the Eagles have the best offensive line in the NFL last year, but they also had one of the best defensive lines as well. They were the number one run defense in 2017. Most of the guys from the 2017 season are returning, with the addition of a few other monsters. Locks to make the team include Cox, Brandon Graham, Derek Barnett, Chris Long, Michael Bennett, and Haloti Ngata. Another guy who should be a lock based on his performance last year and current contract is Tim Jernigan. However, reports indicated that the Eagles weren't too happy with Jernigan's injury so that might leave him on the outs a little bit. Pederson did say he's "getting all the mental reps". He is not out on the field because they want to ensure he doesn't get "banged around" in any unnecessary way.
The guys who will earn their spot on the line
Josh Sweat fell to the Eagles in the fourth round because of injury concerns. In the last six weeks leading up to camp, Sweat remained in Philadelphia, lifting and rehabbing. He has put on 15 pounds of muscle. Sweat has also been doing some conditioning, ensuring he was in top shape for camp. He looks noticeably bigger than he did just a month and a half back and he is already getting second-team reps ahead of Steven Means. And, based on the fact that Jim Schwartz is constantly working a rotation, Sweat would be an asset for him on the roster.View image on Twitter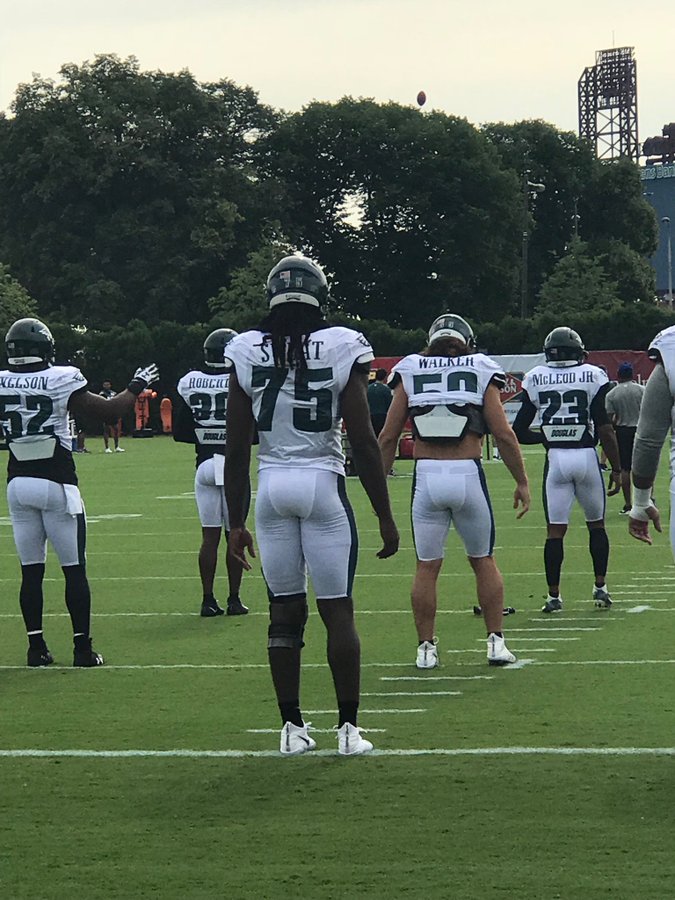 Eliot Shorr-Parks✔@EliotShorrParks
Josh Sweat has been getting 2nd team reps and already appears to be ahead of Steven Means on the depth chart. Looks like he has put on some muscle as well #Eagles2309:19 AM – Jul 29, 201857 people are talking about thisTwitter Ads info and privacy
The last two roster spots are going to be interesting. Destiny Vaeao is a guy the Eagles really like. He missed some time last year due to injury, but he is another big skilled defensive lineman. In Sunday's press conference, Pederson mentioned he is a guy who is "flashing" a little bit and doing some things to stand out. Vaeao will most likely make the roster in a similar spot as last year, hopefully staying healthy to find himself in the rotation.
The last player to find his way to the line will be Aziz Shittu. Shittu was signed to a future/reserves contract with the Eagles in January and has put in enough work to be noticed by Pederson. He pointed Shittu out as a guy who is having a good camp and has shown good flashes. If Shittu continues to impress, he will lock up that last D-line spot.
The defensive linemen on the 53-man roster will be, in no particular order:
Fletcher Cox
Brandon Graham
Derek Barnett
Chris Long
Michael Bennett
Haloti Ngata
Tim Jernigan
Josh Sweat
Destiny Vaeao
Aziz Shittu
The biggest pain point for the Eagles – the linebackers
Even for a Super Bowl championship team, they still had positions that struggled. The linebackers were mainly their problem, often struggling with injuries. They addressed this problem slightly in the offseason, but for the most part, the Eagles will remain confident in guys already in the building.
Jordan Hicks will be returning from injury and hopefully, he will be able to stay healthy this year. Although Nigel Bradham will miss the first game because of a suspension, his contract was extended in the offseason because he is a key to this defensive unit. In the offseason, the Eagles signed Corey Nelson during free agency. Nelson spent the last four years as a special teams ace for the Denver Broncos. He will most likely take over Mychal Kendricks's spot.
The next three linebackers are all guys who were also on last year's roster. Although Nathan Gerry did not make the initial 53-man roster, he was brought on after injuries hindered the linebacking core. Gerry is a former college safety transitioning to the linebacker position in the NFL. His size and speed will help him in different coverage packages, especially with Jenkins getting older.
Kamu Grugier-Hill showed his value on special teams last year not only tackling, but also serving as a backup kicker. Grugier-Hill has shown his speed and coverage ability so far in camp, proving he can be utilized in more roles than just special teams. Lastly, Joe Walker was also given some playing time last year due to injuries. Walker held his own last year, like Grugier-Hill being a special teams key but also having some success in the defense.
The following linebackers will make the 53-man roster, in no specific order:
Jordan Hicks
Nigel Bradham
Corey Nelson
Kamu Grugier-Hill
Nathan Gerry
Joe Walker
The secondary, starting with cornerbacks who are locks
There will definitely be a good mix of old and new faces within this Eagles secondary. Because of Gerry's ability to play the linebacker and safety positions, the Eagles will carry four safeties and six cornerbacks for the 53-man roster. Starting with the cornerbacks, there will be three returning from last season.
Darby missed nine games early in the season with a dislocated ankle. He finished the year with 34 tackles, nine passes deflected, and three interceptions. One of those interceptions came in the closing moments of the game against the Raiders. Darby's interception set up the Eagles for a game-winning field goal. The Florida State alum is a lock for the roster.
Also returning from last year will be Jalen Mills and Rasul Douglas. In his second year, Mills notched 64 total tackles, 14 passes deflected, and three interceptions, one of which was returned for a touchdown. Mills still has room to improve, but will definitely make the 53-man roster. Douglas got some playing time due to injuries in the secondary. Douglas tallied 25 tackles, 11 passes deflected, and two interceptions in 14 games. Again, still room to improve, but he will make the roster as a young corner with a lot of potential who proved he can perform in the NFL.
New guys for the cornerback position
The new faces on the roster will be those of De'Vante Bausby, Avonte Maddox, and Sidney Jones. Right now, Bausby and Jones are battling it out for the starting nickel corner position. Going into camp, all signs pointed to Jones, but Bausby's performance in camp so far has been turning heads. Schwartz has said everyone will get some reps in before ultimately making the decision on the starter. Whichever one comes out on top will join Darby and Mills as the top three corners.
The last corner on the list will be Maddox, which means he will most likely be a special teamer, barring injuries to the starting secondary. The Eagles used a fourth-round draft pick on Maddox, meaning he WILL make the roster, even if he is not a staple in the defense right away.
Finishing the secondary with the safeties
The two guys locked into the safety position are Jenkins and Rodney McLeod. Both guys are veteran players as well as leaders in the locker room. There really is no question on these two. Jenkins and McLeod both had good seasons last year, making big plays that led to a Super Bowl title.
Chris Maragos is currently on the PUP list, but I expect he will make the roster as well. When we lost him for the season due to a torn PCL, his presence on special teams was immediately missed. No matter what was going on, Maragos was always the first guy down the field on each special teams play. There was a reason he was the special team's captain. He will make the 53-man roster, whether it be as an active player, or on the regular season PUP list.
The last guy that will make the roster in the secondary is Tre Sullivan. Sullivan was signed to the Eagles practice squad in November after showing some promise of physicality and athleticism in last year's preseason. However, Sullivan was then cut, signed to the practice squad, then released with an injury settlement. Now, he is looking to pick up where he left off in the 2017 preseason and make this roster. He will be the third safety to back up McLeod and Jenkins, especially if Maragos isn't healthy to start the year.
The safeties and cornerbacks on the 2018 53-man roster will be:
Ronald Darby
Jalen Mills
De'Vante Bausby
Sidney Jones
Rasul Douglas
Avonte Maddox
Malcolm Jenkins
Rodney McLeod
Chris Maragos
Tre Sullivan
Can't forget about the special teams
The last three guys on the roster are the kicker, long snapper, and punter. If Jake Elliott's 61-yard field goal as a rookie didn't convince the Eagles he's worthy of a roster spot, his two 40+ yard field goals in the Super Bowl definitely did it. Elliott can play and he will only get better.
Rick Lovato did his job just as well as Jon Dorenbos. He had a good year and like Elliott, will only get better.
The biggest question mark on the roster
The only questionable spot here is the punter. After the Super Bowl, Donnie Jones announced his retirement, then announced his un-retirement. He has yet to be picked up by a team.
The Eagles current punter, Cameron Johnston has gotten some attention, but in a very bad way. When he has a good punt, they're good. But when he has a bad punt they're BAD. Barely making it back to the line of scrimmage bad. His biggest issue is consistency which is exactly what Jones was able to deliver.
Not only did Jones give the Eagles consistency with punts but also with field-goal and extra point holds. There was not one mishap there last year, and if you recall, the Patriots had one that cost them a usual guaranteed Gostkowski field goal. If the Eagles are fine with the variable of inconsistency in the punt game, they will keep Johnston. However, I'm not sure that will work.
I am going to branch out and say the Eagles might try to sign veteran free agent punter Brad Nortman. Nortman has spent time with the Panthers and Jaguars. He held several different franchise records for the Panthers including punt yards in a playoff game, punt yards in playoffs, and punt yards in a game. He was released because the Jags drafted rookie punter Logan Cooke this year. I think the Eagles will sign Nortman and he will make the 53-man roster.
Jake Elliott, K
Rick Lovato, LS
Brad Nortman, P
Will this be it?
This is a prediction solely based on the spring workouts as well as the first week of training camp. The Eagles haven't even had a full week yet so there is still time for other players to shine. But if the deadline for roster submission was today, this would be it. The players and coaches are still hungry and want to win another title. I believe this is the roster that will give them the best chance for a repeat. What changes would you make to the 53-man roster? let us know below.
Featured Image: Owen Winkler via Flickr
All stats from NFL.com