Post originally appeared on Pro Sports Notes
June 28, 2018
5 Things that need to happen for A Super Bowl repeat
Image: Tony Webster via Flickr
5 Things that need to happen for A Super Bowl repeat
Posted on June 28, 2018
The Eagles can repeat, but there are 5 things that need to happen
Daily reminder – the Eagles won the Super Bowl and are world champions. There have been a few teams in recent years like the Seahawks and the Patriots that appeared poised for back to back Super Bowl titles. Other teams like the Panthers and the Falcons looked as if they would continue to appear in multiple Super Bowls. Unfortunately (for them) this wasn't the case. The Eagles won the Super Bowl with a younger team that is under contract for the next few years. They have the best shot of any team in recent years to repeat their title. However, there are 5 things that must happen before we get another parade down Broad Street.
1. Philadelphia's offensive line needs to maintain its dominance
First off, Philadelphia had one of the best, if not THE best, offensive lines in the NFL last season. The first key to repeating as Super Bowl champions is maintaining the offensive line. Also, protecting Carson Wentz must be a priority if the team plans on repeating.
Regardless of his injury, Wentz is a competitor and will continue to do everything possible to win. Even though reports say he is encouraged to take fewer chances scrambling and running, I don't see Wentz scaling it back much.
Philadelphia's offensive line needs to keep their quarterback protected when he scrambles. In addition to pocket protection, the line must get out in front when Wentz runs. Wentz is a scrambler and the offensive line can't give up on broken plays.
The 6-foot-5 quarterback looks to extend certain plays when and if necessary. In order to repeat the O-Line must ensure that they protect their quarterback at all costs. With a tough schedule, it is important that the offensive unit is all on the same page.
2. The secondary needs to step up their game
Last season the Eagles young secondary proved themselves big time. In his rookie season, Jalen Mills prevented guys like Julio Jones and Antonio Brown from scoring. During his sophomore season, he continued to play at a high-level.
Ronald Darby missed some time this season with a dislocated ankle. But when he returned he proved he was an asset to this team. The Giants abused Darby on the field during a Week 14 matchup, however, his interception sealed the game against the Raiders, giving the Eagles home field throughout the playoffs.
During the time that Darby was out with the injury, Rasul Douglas stepped up for the team. He played in 14 games this year and started 5. He recorded 25 tackles, 11 deflected passes, and 2 picks.
There are two guys that will have a big role this season, Sidney Jones and Avonte Maddox, who was drafted in the fourth round of this year's draft. Jones got a few snaps in last season, however, it was a meaningless game where most of the starters didn't play past the first series. He showed flashes of his talents. Eagles fans are excited to see this kid play for real this season.
Maddox is a smaller guy who will most likely be in the nickel corner position, addressing a spot the team needed to fill. If these guys step their game up and play at a high level matching the defensive line, this defense will be impossible to pick apart.
3. Keep off-field problems non-existent
A notable issue with the Eagles last year was their lack of media time involving events other than winning games. For example, Jets cornerback Rashard Robinson was arrested for reckless driving and possession. Packers RB Aaron Jones was arrested for a DUI. These are just a few examples.
Over the offseason, the Eagles were in the news due to players being arrested and reckless. Michael Bennett was indicted for injury to the elderly, Daryl Worley was arrested for a DUI, and Jay Ajayi was accused of trashing a house.
One of the 5 things that will help the Eagles win another Super Bowl is keeping these issues non-existent. The entire focus needs to be on football without distractions. The culture of this team is important. It was a huge factor in their championship season.
Teams can be great, but without a good culture, a team can fall apart. We saw that with the Patriots. They have a phenomenal football team but, the Eagles came out on top due to their team culture and chemistry. The Eagles players and coaches have made it known that the culture of the locker room is the most important factor. It needs to stay that way.
4. Think smart, not hard ON the field
On the field, the Eagles were a lethal offensive system. In 2016, Doug Pederson was criticized for his lack of aggression and for sometimes being too aggressive. In 2017, he found the perfect balance. He was aggressive at the right times and conservative when needed.
Sticking with his strategies will lead to another title. Former Eagles Head Coach Andy Reid always got too cute at times and tried to outsmart the other team but in turn, outsmarted himself. Pederson needs to stick with what he knows works.
This season if teams manage to stop the run the Eagles can't afford to become too pass dominant. Keeping a balanced run and pass game will be key in the 2018-19 season. Why become one dimensional if teams can't stop a well balanced offensive attack?
5. Think smart, not hard OFF of the field
Throughout last season, the Eagles did a good job of focusing on their opponents on a week by week basis. That was their only focus and they did not look ahead down the road, they simply focused on their opponents on Sunday.
Coaches would not address any further matchups and neither would players. This mentality of winning one week at a time played a huge role in their success. The Eagles play a first place schedule this year and have to face opponents like the Vikings, Jaguars, Falcons, and Rams. Looking too far ahead could be costly.View image on Twitter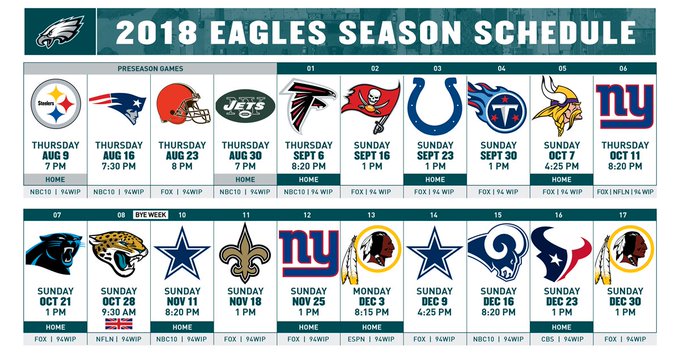 Take a closer look at the #Eagles 2018 schedule. #FlyEaglesFly

More Details: http://bit.ly/2HiNxSk 7,4748:01 PM – Apr 19, 20184,466 people are talking about thisTwitter Ads info and privacy
Will these 5 things work?
Winning a Super Bowl is no easy task and repeating as champions is even harder. The NFL set the salary cap and reverse draft order in hopes of preventing repeating titles and dynasties. Obviously, it will take more than just executing these 5 things, but they will be crucial in the 2018 season.
Stats from NFL.com.
Featured Image: Tony Webster via Flickr