Post originally appeared on Pro Sports Notes
October 12, 2018
12 things to love and hate after the week six WIN over the Giants
Image: Smashdown Sports News via Flickr
12 things to love and hate after the week six WIN over the Giants
Posted on October 12, 2018
The 12 things will mainly focus on the LOVE side
The Eagles needed to bounce back in a big way, and they did just that against the Giants. After losing two ugly games back to back, the Birds came out looking dominant from kickoff until the clock hit zero. After the win, here are 12 things to love and hate about the Eagles.
Thing to hate #1: It really pains me that Saquon Barkley is in the division
The first of the 12 things is something to hate. Barkley is an animal. He's an unbelievable talent and it's always exciting to watch him play. As a Barkley fantasy owner, I can't complain. However, the fact that he is a New York Giant KILLS me. I really like the guy and want to cheer for him but good grief the fact that he plays for a division rival is a shame. He is so good. The way he slips tackles and just makes people miss. It's crazy.








.@Saquon cannot be stopped!

50-yard touchdown run #GiantsPride #PHIvsNYG

: @nflnetwork + @NFLonFOX
+: http://on.nfl.com/MzCRPZ 2,93510:38 PM – Oct 11, 2018816 people are talking about thisTwitter Ads info and privacy
Thing to hate #2: Dallas Goedert should be more involved
They've utilized him a little bit more, but still not enough. At his height, he is a huge (literally) threat, especially in the red zone. USE HIM. But I'm not going to harp on that because a lot of the previous issues I had have been addressed. This is the last point to hate on this list of 12 things. So, let's just move on to things to LOVE.
Thing to LOVE #1: Jim Schwartz made adjustments – so everyone can settle down now
LOOK AT THAT! I know it's crazy to think that the coaches were ACTUALLY seeing the same things we were on the field. They're not blind, they knew what was going wrong. Schwartz clearly adjusted it in the game plan this week. They played a lot of two high giving them more zone coverage and it appeared to work pretty well. They made adjustments as the game went on as well after losing Sidney Jones.
Jalen Mills had a huge bounce-back game. I know all of the Mills haters will point out the one play but he did what he could on that one. He didn't bite on a double move, he didn't get beat, it was just a good catch. It happens to the best. He then made two big plays to make sure they didn't score a touchdown on the drive. He also made a great play on an end zone shot to Odell Beckham Jr. #FingerWagSzn

Eliot Shorr-Parks✔@EliotShorrParks
Jalen Mills was excellent in the red zone last night. Here is he after the game: #Eagles439:00 AM – Oct 12, 2018See Eliot Shorr-Parks's other TweetsTwitter Ads info and privacy
Hopefully, everyone will stop calling for the benching of players and for Jim Schwartz's job. Let's leave the NFL play and the NFL coaching up to the professionals.
Thing to love #2: DeAndre Carter's contributions
This guy was on practice squads and working as a school teacher. He made some good plays in the preseason and earned a spot on the roster. Then things got moved around and the Eagles cut him and placed him on the practice squad. Then after some injuries, they brought him back and he has shown why he is an asset to the roster on special teams.
Last night, Carter had five punt returns for 47 yards and two kick returns for 34 yards. He continuously set the Eagles offense up with solid field position to start drives.
Thing to love #3: Friendly reminder – we have Alshon Jeffery through 2021
That Wentz to Jeffery connection is a beautiful thing. I've said before, it's been a while since the Eagles had a true number one, "always open" receiver. It's really been since T.O. But now, the reliability factor is there and we're going to see more. Jeffery leads the team in receiving touchdowns with three. The only other player on the roster with three touchdowns is Jay Ajayi.
Alshon Jeffery gets in for his second touchdown of the night. Eagles are in complete control now.

(Via @NFL)15110:32 PM – Oct 11, 201822 people are talking about thisTwitter Ads info and privacy
Thing to love #4: Carson Wentz is back. There's no doubt about it. MVP caliber performance
A given point in the love category in the list of 12 things is Wentz. This guy is so good. I'm so happy we didn't give up 17 picks, Fletcher Cox, Brandon Graham, and the Rocky statue for Marcus Mariota. Wentz is the perfect guy for this city. He had another MVP caliber performance last night. He was 26/36 for 278 yards and three touchdowns. Wentz also finished the night with a 72.2 completion percentage.
A big part of that was also due to the offensive line. They kept Wentz pretty well protected the majority of the night only allowing one sack.
Thing to love #5: The offense put together several complete drives
This is something we haven't seen yet this season. The Eagles maybe had one solid drive per game up until this point. Last night, we saw the Eagles engineer several complete drives all the way down the field. There was a good balance of running and passing and they worked their way down the field consistently chipping away at the yards to the first down marker.
It looked like they really had everything under control as opposed to floundering around like they had been.
Thing to love #6: The red zone and third down accuracy was reminiscent of last year
This point on the list of 12 things is huge. Last year, the Eagles had the highest red zone scoring percentage as well as the highest third down conversion percentage. This year so far they had not been great with either. Last night, they were 4/6 in the red zone and they were 9/16 on 3rd down.
Those two stats are just a few of the points that made the Eagles so good last year and it was noticeable that they were missing so far this season.
Thing to love #7: Everything just seemed tighter
I said before that it was not time to panic just yet. The issues the Eagles had could simply be fixed by buttoning everything up. There weren't any huge problems. They just needed to pull it together a little bit. Last night they did just that. The offense and defense both played with more structure and discipline. The routes looked crisper, the protection was solid, Wentz was accurate, the defense was tight in coverage, and they were flocking to the ball immediately.
The focus this week clearly was on discipline and urgency and that's the exact way the Eagles played that football game.
Thing to love #8: The term "Road Game" is almost laughable for the Eagles
It was true last year and it will be true again. Eagles fans travel well. Whether it's to Tampa, Nashville, or good ol' New Jersey, you're going to hear those Eagles fans cheering for their team, and chanting E-A-G-L-E-S. There's no such thing as a road game for the reigning champs.
Thing to love #9: It's really great to see the team smiling and joking around on the sidelines again
This point on my list of 12 things is my favorite one. One thing that made the Eagles so fun to watch last year was the sense of camaraderie within the team. It was a team that the fans could put their arms around and feel like we were all part of the family. They were laughing and smiling on the sidelines, doing their touchdown celebrations, and clearly having a great time. A lot of that was because they were winning. Last night it was really good to see the guys getting excited, smiling on the sidelines, and joking around with each other.
There was a point where they were playing some of the clips from the mic'd up players, and there was one where Zach Ertz grabbed Goedert's shoulder and said "c'mon dude, have a little fun!" It was a good moment to see that they want to have fun while playing. That's the way it should be.
Thing to love #10: Doug Pederson's glasses game is FIRE
Visor game strong. Glasses game? Pure fire. That is all.View image on Twitter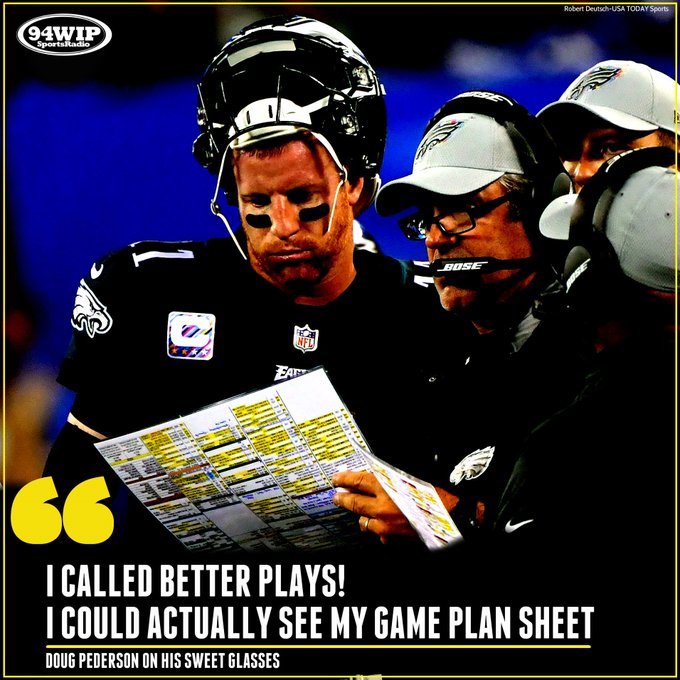 SPORTSRADIO 94WIP✔@SportsRadioWIP

It's funny 'cause it's true. 1879:33 AM – Oct 12, 201828 people are talking about thisTwitter Ads info and privacy
It's time to keep this going
It was really great to have so many "love" points in this 12 things to love and hate article.
As fans of the game, I think we sometimes take the human aspect out of football. At the end of the day, these players are human. They make mistakes, they screw up at work. Have you ever screwed up while doing your job? We all have. Have you ever wished you would have performed a task better than you did? We've all done that too. These players are humans. Most of them still in their 20s. They don't need us to constantly tell them when they do a bad job. They know. Part of sports is obviously being critical of your team. I'm not saying they should all be coddled but even when times get tough for the team we keep supporting our guys. We don't need to constantly point the finger and play the blame game. That will solve nothing.
They'll figure it out. They didn't win a super bowl and think "eh that's enough I'm good now". No, they want to win again. And again. And again.
Let's keep this momentum going Eagles! Next up, Carolina. I can't wait to see if Cam Newton talked to his receivers about their routes so he can get all those interceptions from last year cleaned up.
Stats from NFL.com, ESPN.com, Pro Football Reference
Featured Image: Sports Book Review via Flickr