Post originally appeared on Pro Sports Notes
October 1, 2018
11 things to love and hate about the Eagles after a week 4 loss to the Titans
Image: Donnie King via Flickr
11 things to love and hate about the Eagles after a week 4 loss to the Titans
Posted on October 1, 2018
11 things to talk about after an ugly Sunday
That game should have been a win. The Eagles should have a 3-1 record. But they don't. After a decent first half, the Eagles stalled in the second half, letting the Titans come back from a two-score deficit to take the lead. This loss stings. The Eagles blew it in an OT loss to the Tennessee Titans. However, you can still draw some positives out of the game. Here are 11 things to love and hate after yesterday's loss.
Thing to hate #1: These referees have absolutely no respect for the Philadelphia Eagles
Let's start off the list of 11 things small and work our way up. In the first half yesterday, there were virtually no flags. The game was being played and I didn't really think they missed much either. Maybe a hold here and there on both sides but nothing too crazy. Then the second half came. There were flags being thrown all over the place extremely heavily in the Eagles direction. Now, obviously, a lot of those are things the Eagles need to clean up and fix. (I'm talking to you, Kamar Aiken). But there is one flag that was thrown, then picked up, that I can't get out of my head. And there were even more flags missed.
https://twitter.com/JamieSlonis/status/1046481317133733888
I won't harp on this long because the Eagles still scored a touchdown on this drive. However, I am irate over the fact that Carson Wentz scrambled and ran up the middle, slid giving himself up, and still took a big shot on the ground. With the emphasis the league is putting on protecting quarterbacks and throwing flags when a defensive lineman BREATHES on a QB too hard, there is absolutely NO reason this shouldn't have been a flag giving the Eagles a first down. Granted, Wentz threw a touchdown pass to Alshon Jeffery on the next play. But still, that's unacceptable to pick that flag up. The lack of respect the Eagles get from the referees is absurd. They NEVER would have picked that flag up if it was Tom Brady or Aaron Rodgers taking that shot.
Thing to hate #2: The scumbag Titans fans that Mike Vrabel had to beg to show up for their team
First of all, it must be really sad as a coach to beg fans to show up to a home game. It's also sad that he felt it necessary to do because the Eagles fans were taking over. However, I have a giant bone to pick with the four and a half Titans fans that showed up. These fans were chanting "HIT THAT LEG" when Wentz was on the field. Let's talk about this.
Titans fans chanting, "HIT! THAT! LEG!" about Carson Wentz. Repulsive behavior that would be national news if it happened in Philly.9,0592:18 PM – Sep 30, 2018 · Nashville, TNTwitter Ads info and privacy3,012 people are talking about this
If these were Philly fans chanting that about another team's player? We'd be all over the sports news outlets and they'd be bringing up throwing snowballs at Santa again. If this were Philly, we'd be hearing about how awful Philly fans are. But that's not happening for the Titans fans. I bet you didn't even know that before reading this article. THAT'S how bad this is. How disrespectful?
No matter how much you despise a team or player, you NEVER wish an injury on someone. I can appreciate good athletes. I, as a sports fan, appreciate good talent. Do I absolutely DESPISE Tom Brady? Yeah, but I can also appreciate how unbelievably talented he is and how fortunate I am to see an athlete like that in my life. I would never want to see Brady tear an ACL because that's a huge loss as a football fan. Even Dak Prescott. I don't think he's talented, and I hate the guy, but I would never wish an injury on someone. That's his career. That's his passion.
As fans, we have no right to wish ill will on someone's life. These Titans fans are scumbags and there's no other way to put it. Maybe next time, fill up your home stadium without your head coach begging for all seven of you to show up.
Thing to hate #3: The playcalling balance still isn't there and it's getting old
Moving on in the list of 11 things to love and hate. Maybe Frank Reich was a bigger piece to the Super Bowl win than we thought. We know he wasn't calling the plays, but Doug Pederson always said that Reich was the voice of reason in his ear. Right now, Pederson could really use that voice. Wentz threw the ball 50 times yesterday. For a guy who was only in his second game back after a season-ending injury. What kind of sense does that make? Oh, wait, none. I love watching Wentz throw and scramble to make plays as much as anybody but the running game was WORKING! It's the easiest way to wear down a defense.
SPORTSRADIO 94WIP✔@SportsRadioWIP
Doug Pederson on 22 runs to 50 passes: "I mean that's probably, after a loss, what everybody points the finger. Why not this? Why not that? Everybody is going to point the finger. You go into football games with a certain plan." #Eagles148:06 AM – Oct 1, 2018Twitter Ads info and privacySee SPORTSRADIO 94WIP's other Tweets
SPORTSRADIO 94WIP✔@SportsRadioWIP · Oct 1, 2018
Doug Pederson on 22 runs to 50 passes: "I mean that's probably, after a loss, what everybody points the finger. Why not this? Why not that? Everybody is going to point the finger. You go into football games with a certain plan." #Eagles
SPORTSRADIO 94WIP✔@SportsRadioWIP
"I would admit maybe that is a little bit skewed…you're probably right. Maybe we should have run the ball a few more times."118:06 AM – Oct 1, 2018Twitter Ads info and privacySee SPORTSRADIO 94WIP's other Tweets
Let's talk about the run game in over time. Jay Ajayi had three rushes for 31 yards. Wendell Smallwood gave you another rush for 13 yards. Ajayi then ran the ball and lost two yards on a first down on the Titans 17-yard line. From there, the Eagles gave up on the run. They needed to give it another go. If they score there, the game is over. Instead, they abandoned the run, and settled for a field goal, ultimately giving the ball back to Tennessee and giving them the win.
The Eagles threw the ball 71% of the time yesterday. Ajayi had a total of 15 carries for 70 yards. Smallwood had five carries for 39 yards. This is a time when we really miss LeGarrette Blount. I feel like Sandra Bullock in "The Blindside" when she calls the coach's cell phone from the stands. "Run the dang ball!"
Thing to hate #4: The entire offensive line is on my you-know-what list
This point on my list of 11 things is a continuation of thing to hate #3. We need to talk about the offensive line. This is the best offensive line in the NFL. Based on their performance over the last three weeks? I'd say they're playing like one of the worst, specifically in their pass blocking. Wentz is getting destroyed back there and honestly, Nick Foles was too in the first two games. Wentz was sacked four times yesterday and hit another 11 times. That's unacceptable. It goes back to the playcalling too. Offensive linemen love to run-block. And other than a few really crucial holding penalties (that need to get cleaned up) the line was doing a good job there. ESPECIALLY in OT.View image on Twitter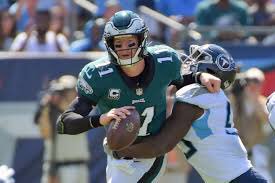 Jeff Skversky 6abc✔@JeffSkversky

NOBODY in the NFL has been Sacked MORE than Eagles QB Carson Wentz on a per game average

4.5 per GM Average = 9 Total Sacks in 2 GMs@6abc #Eagles#CarsonWentz1312:51 PM – Oct 1, 2018See Jeff Skversky 6abc's other TweetsTwitter Ads info and privacy
They need to protect Wentz better. I'd rather take a holding call than have Wentz get hurt. They need to do better. When Foles was getting hit everyone was so quick to blame him for several reasons. Clearly, it wasn't on Foles because it's still happening to Wentz.
Thing to hate #5: The secondary…need I say more?
This is not the first time the secondary has appeared on my list. But, here they are again on this edition of 11 things to love and hate. This secondary needs help. I said last week that losing Rodney McLeod would be a huge blow to this defense. You don't realize how much of an impact he has on a game unless you really understand the ins and outs of defensive schemes, or until he's out of the game. The secondary is the biggest problem right now and has been the entire season thus far. The problem is, it isn't just one guy.
Everyone is so quick to point fingers at one guy – Jalen Mills. Mills has taken the brunt of the criticism for the woes in the secondary. Mills has not been great to start the season, but it's not just on him. The ENTIRE secondary is playing terrible football right now. Mills is getting flat out beat, Sidney Jones had a costly mistake yesterday and gave up a touchdown that put the Titans in the lead. Ronald Darby struggled in coverage, and don't even get me started on Corey Graham giving up a catch on the 4th & 15. The Eagles need to do something to fix this secondary and fast. It's not one guy. In the words of Jason Kelce, it's the whole team!
Corey Graham says it was a really dumb play by him on 4th and 152325:22 PM – Sep 30, 2018 · LP Field119 people are talking about thisTwitter Ads info and privacy
Thing to hate #6: The media portrayal of the loss
I think that the previous five things I mentioned in my list of 11 things are acceptable to be annoyed about. But other than that, I think everyone else needs to chill. I think us fans need to chill, sports radio hosts need to chill, and the media needs to chill. It isn't time to panic yet. Pederson said he's not worried, we shouldn't be worried. And it's obvious when a coach is lying about not being worried. I don't think we need to worry yet and here's why.
First of all, the media was trying to paint it like Mills played a terrible game and then started pointing fingers at Corey Graham and threw him under the bus. What really happened? He was asked about the 4th & 15 play and he said, we need to play the sticks and be aware of the sticks and it's all about execution and we didn't do that. He wasn't asked at that moment about his OWN play, so we need to stop acting like he was tossing his teammate under the bus. Graham is a smart guy. He knows he messed up. We don't need to tell him.
Total devastation. That may be the toughest Eagles loss I have ever experienced. Too many culprits to mention. It's going to be a very long week.1,0934:43 PM – Sep 30, 2018Twitter Ads info and privacy446 people are talking about this
As Eagles fans, we're supposed to ride and die with our team. We let them hear it when we're displeased but in today's world of social media, saying awful things and trying to tear our players down IS NOT GOING TO HELP THEM WIN FOOTBALL GAMES. They're going to have bad games. They're human. Stop calling for their jobs and stop panicking. There are still 12 games in front. It is a LONG season. This is not the worst or most disappointing loss we've ever seen. They'll get some of this stuff figured out. On to the Vikings.
Thing to LOVE #1: Wentz. We all love Wentz.
Okay, enough of the negative stuff let's move on to the positives in this list of 11 things to love and hate. Even though he should not have thrown the ball 50 times, Wentz went 33/50 for 348 yards and two touchdowns. He was putting balls right where they needed to be. There were a few that I'm sure he'd like to have back, but for throwing the ball 50 times, he had a decent game. He's only going to continue getting better and I feel a big breakout week for the offense coming real soon.
Carson Wentz hits Jordan Matthews IN STRIDE for six!!!

(via @NFL)2522:09 PM – Sep 30, 201872 people are talking about thisTwitter Ads info and privacy
Thing to love #2: Jay Ajayi is tough as nails
Ajayi deserves to be in the love portion of this list of 11 things to love and hate. The guy has a fracture in his back. He strapped on some extra padding and went in there and battled. He came out of the game for a while because he was very clearly in pain. Then, he came back in and continued to push and run hard for the offense. Clearly, Ajayi was very serious when he said that he wanted to be the workhorse and show the rest of the league there was a fourth star running back in the NFC East. Eagles fans love a guy who works hard, pushes through pain, and continues to dominate. Ajayi is that guy right now. I will continue to say he needs to touch the ball way more each game.
We already know how many rushing yards he had, and he could have had more if the Eagles cleaned up the penalties.
Jay Ajayi lost 46 yards rushing due to penalties today… #Ealges #PlaysYouDidntSee129:58 PM – Sep 30, 2018Twitter Ads info and privacySee Jeff Mans's other Tweets
The guy is tough as can be, playing with a fracture in his back and still running dominantly. Give him the ball MORE.
Thing to love #3: Malcolm Jenkins is a gift
We are so lucky for several reasons to have a guy like Jenkins in an Eagles uniform. He had been relatively quiet the first few games but during OT yesterday, he made his presence known. He did have a costly penalty on 4th & 5, but prior to that, he was flying around making every stop. I mean, with the way the secondary is playing he had no choice, but he can only do so much. Jenkins literally tried to win that game on his own. He is an awesome physical player that always poses a threat to an offense. That's why he's in the love portion of the list of 11 things to love and hate.View image on Twitter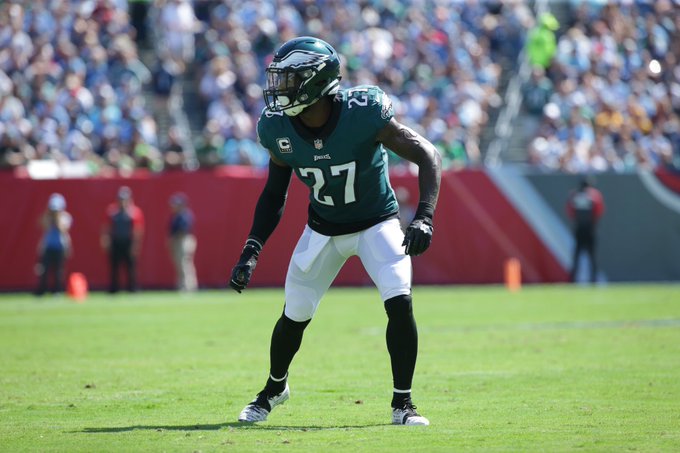 Malcolm Jenkins✔@MalcolmJenkins
We didn't do what we needed to… we'll wear that and move on to the next… I love this game! You feel, in its totality, the thrill of victory and the agony of defeat. Both are destined to come but it's how you respond that defines you. #FlyEagelsFly7,9189:37 PM – Sep 30, 20181,302 people are talking about thisTwitter Ads info and privacy
Hopefully, Jenkins will continue to make his presence known. I wouldn't mind him making it REALLY known to Kirk Cousins.
Malcolm Jenkins is trying to win this game on his own.2034:28 PM – Sep 30, 2018Twitter Ads info and privacy40 people are talking about this
Thing to love #4: DeAndre Carter bringing that punt back
Carter was released and signed to the practice squad two weeks ago in order to make room for Josh Adams. With McLeod placed on IR, the Eagles brought Carter back to the active roster. Since Corey Clement was inactive with a quad injury, Carter was assigned punt return duty and boy, did he take advantage. He had one punt return for 42 yards all the way into Titans territory.
Clearly, Carter showed why he deserves his roster spot. I wouldn't mind seeing more punt returns like that for the Eagles.
We're heading to overtime, thanks in part to DeAndre Carter's big return.#FlyEaglesFly8424:08 PM – Sep 30, 2018256 people are talking about thisTwitter Ads info and privacy
Thing to love #5: I saved the best for last…Alshon Jeffery
It's so good to have Jeffery back on the field. And, it's great to put him in the love category of the list of 11 things to love and hate. This guy's presence alone makes a difference. Even if he isn't making plays, he is still drawing the defense's best corner and a safety to his side, opening up the field for Zach Ertz, Dallas Goedert, Nelson Agholor, and Jordan Matthews.
What. A. Catch.

Alshon Jeffery with the TD! 213:08 PM – Sep 30, 2018See Sporting News's other TweetsTwitter Ads info and privacy
It's fantastic to have that "always open" guy. The Eagles haven't had that guy since T.O. Jeffery is always open even in double coverage. He is so strong and has such great hands. He and Wentz have also built up the jump ball trust. Jeffery made a difference in that game yesterday and he will only get more involved as the weeks go on.
Hopefully, the things to love made you feel a little better
I wrote the things to love in the second half of the list of 11 things to love and hate in hopes that you will also realize there are good things about this team, and the bad things can be fixed. It was a frustrating loss, but we've seen worse. The Eagles will get better and they will always keep fighting. The Vikings come to town on Sunday looking for some NFC championship revenge. They are coming with no shortage of offensive weapons like Adam Thielen, Stefon Diggs, Kyle Rudolph and more. They are a good football team and the Eagles will need to be on their A-game to win.
Let's get ready to see Kirk Cousins in purple and gold on Sunday. The Titans game is over and done with. On to the next. Give me some more things to love next week Eagles. I want to write 11 things to love and hate with 10 things in the love category.
Stats via ESPN and TeamRankings
Featured Image: Donnie King via Flickr