Post originally appeared on Tha Sports Junkies 101
March 14, 2018
Nigel Bradham Signs 5-Year Deal With The Eagles
Image: Keith Allison via FlickrNigel Bradham Signs 5-Year Deal With The Eagles
Nigel Bradham Signs 5-Year Deal With The Eagles
Posted on March 14, 2018
The Deal
This morning, Nigel Bradham agreed to a contract with the Philadelphia Eagles worth $40 million over 5 years.
Philadelphia Eagles✔@Eagles · Mar 14, 2018
The #Eagles have agreed to terms with LB Nigel Bradham on a five-year contract.#FlyEaglesFly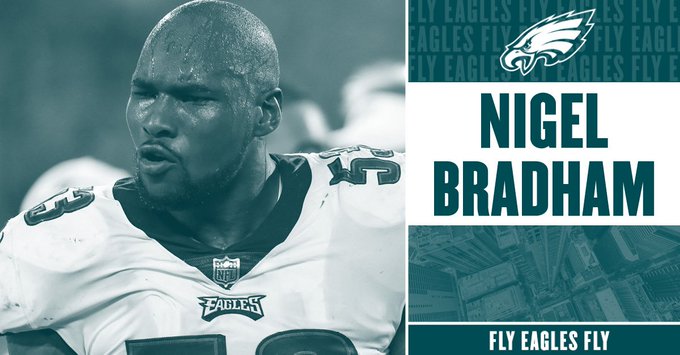 Philadelphia Eagles✔@Eagles1,3269:56 AM – Mar 14, 2018Twitter Ads info and privacy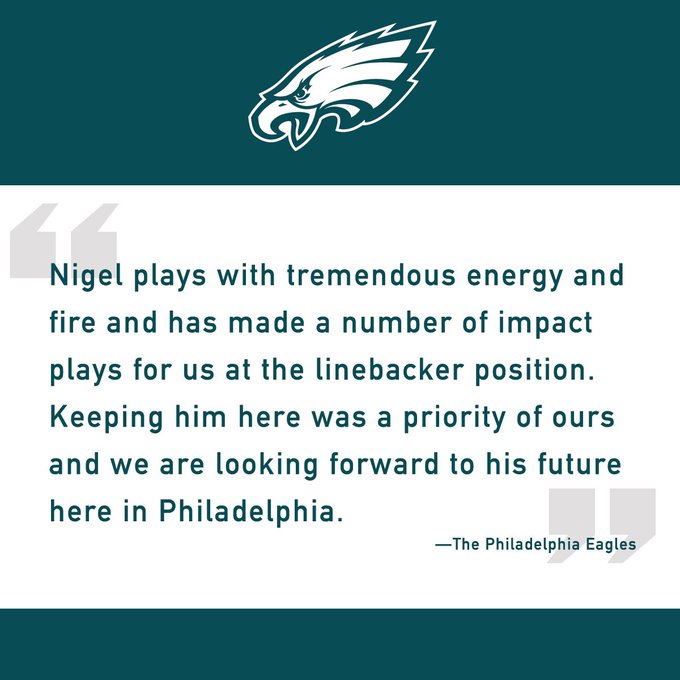 243 people are talking about this
Nigel Bradham In College
Nigel Bradham attended Florida State where he recorded 306 tackles and 9 sacks in 53 games. For three seasons straight, (2009-11) Bradham led the team in tackles. He was an All-ACC Honorable Mention winner after notching 86 tackles, two sacks, two interceptions, and five passes defended in 2011.
Bradham's Career With The Eagles Thus Far
Nigel Bradham has been in the league since 2012. He was selected by the Buffalo Bills in the 4th round of the draft. The Eagles signed Bradham in the 2016 offseason. Over the last two seasons, he has led all Eagles linebackers in tackles (184), sacks (3), forced fumbles (3), passes defended (13), and defensive snaps played (1,913). He continued proving his value to the team in the absence of Jordan Hicks. Hicks was the defensive signal caller on the field before rupturing his Achilles. Bradham took over the role when Hicks went down.
Key Impact Plays
Nigel Bradham orchestrated several impact plays over the 2017 season, most notably a third-down sack of Falcons quarterback, Matt Ryan during the NFC Divisional game. This helped set up a drive leading to Jake Elliott's game-winning field goal. Week 14 against the Los Angeles Ram's Bradham forced a fumble during a lateral play that Brandon Graham returned for a touchdown. The win clinched the NFC East title.
2017 Stats
In the 2017 season, Nigel Bradham finished 3rd on the Eagles defense with 85 tackles, one sack, one forced fumble, one fumble recovery for a touchdown, and eight passes defended in 15 regular season games. In the postseason, Nigel Bradham notched 12 tackles, one sack, and one pass defended.
Impact On The Eagles Future
On the list of 14 Eagles free agents, Nigel Bradham's retention was most important. Over the last couple weeks, reports showed that the Eagles were likely losing Bradham to free agency. Luckily, however, Philadelphia's mastermind Howie Roseman got the deal done.
Although the Bradham deal is exciting and keeps another piece of that dominant defense locked in, it will impact other players' futures in an Eagles uniform. One player most likely impacted is Mychal Kendricks.
Kendricks has been shopped for years, but there has never been a deal worthwhile. After having his best season yet, his trade stock has risen. With the signing of Corey Nelson, who plays Kendricks's position, this is likely the year Mychal Kendricks is traded. One possible trade partner might be the San Francisco 49ers.
Another player possibly impacted is Patrick Robinson. The Eagles have reportedly been trying to get a deal done with him for some time now, but nothing has been solidified. Now with a chunk of money being committed to Bradham, seeing the Eagles get a contract in place and remain under the cap is difficult. A team that reportedly has high interest in Patrick Robinson is the New England Patriots.
The last player potentially impacted by the deal is Vinny Curry. Curry is an $11 million cap hit this season. In order to keep Curry in Philadelphia, complying with the cap requires a restructure of Curry's contract. However, Curry had a solid season an there could be a trade partner somewhere in the league looking to beef up their defense.
Philly Is Making The Right Moves
Going into free agency, Nigel Bradham was the number one priority, rightfully so. Bradham played a fantastic season and was an integral part of the dominating defense. After trading for Michael Bennett and Daryl Worley, signing Haloti Ngata, extending Tim Jernigan during the season, and now locking Nigel Bradham up for the next few years, the Eagles defense will look to wreak more havoc than ever before.
Featured Image: Keith Allison / Flickr
Article originally posted on Tha Sports Junkies 101.