Post originally appeared on Pro Sports Notes
May 3, 2018
Herniated Disc Surgery For Eagles DT Tim Jernigan
Image: coachtomshaw via Flickr
Herniated Disc Surgery For Eagles DT Tim Jernigan
Posted on May 3, 2018
Tim Jernigan Out 4-6 Months After Surgery To Fix Herniated Disc
Philadelphia Eagles defensive tackle Tim Jernigan underwent a successful surgery to fix a Herniated Disc in his back. It was released today that the timetable for return from this surgery is 4-6 months. Click here to read about Herniated Disc surgery, as described by the Rothman Institute.
The Eagles acquired Jernigan in a trade with the Baltimore Ravens for our 2018 3rd round pick. The Birds extended Jernigan mid-season for 4 years, through 2021. The defensive tackle recorded 16 solo tackles, 15 assisted tackles, and 2.5 sacks throughout the regular and postseason. 4 months from now is September. 6 months from now is November. From a football standpoint, it's not the best news for one of our starting tackles. What does this impact for the Eagles?View image on Twitter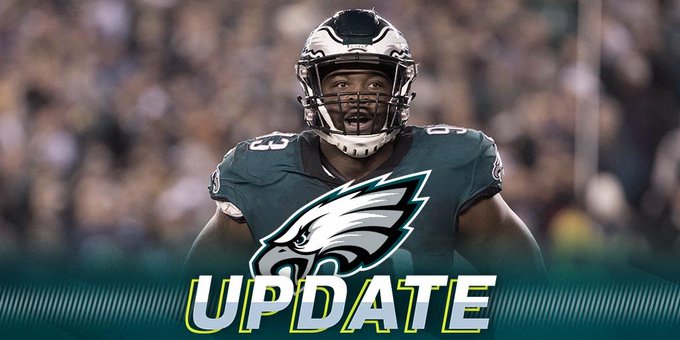 Eagles DL Timmy Jernigan undergoes surgery, will miss significant time: http://on.nfl.com/QtkIPO 43112:32 PM – May 3, 201892 people are talking about thisTwitter Ads info and privacy
What Does This Mean For The Eagles?
There is no doubt that Jim Schwartz will be able to create another year of terror for opposing offenses with this roster. However, losing Jernigan potentially until November is a huge blow, especially after giving him a big extension. He signed a $48M deal, which included a $10M signing bonus, $24M guaranteed, and an average annual salary of $12M. His base salary for this year is $3M with a cap hit of $5M.
What About The Defensive Line?
The Eagles lost Vinny Curry and Beau Allen in the offseason. The results of Michael Bennett's court case remain undetermined. This leaves us with Brandon Graham, Chris Long, Derek Barnett and Fletcher Cox remaining as starters from last year's defensive line. The Eagles signed Haloti Ngata who has most likely locked up a bigger role now that Jernigan needs time to recover. Philadelphia also has backups Elijah Qualls, Steven Means, and Destiny Vaeao, as well as newly drafted Josh Sweat.
The defensive line was the monster of the Philadelphia Eagles team in 2017. The defense allowed an average of 18.4 points per game, ranking 4th in the NFL. The Eagles also had the strongest run defense in the league, only allowing an average of 79.2 rush yards per game. Tim Jernigan and Fletcher Cox cause disruptions on every play whether credited with tackles or not. The biggest influence Jernigan's injury will have on the defensive line is the lack of threat. There will still be another big, strong, talented guy next to Cox, but Jernigan at times drew double teams to prevent him from impacting the play.
Luckily, the Eagles defensive coaches have time. Therefore, there is plenty of time for them to create a plan to make sure the defense is poised for another dominant year.
Featured Image: coachtomshaw via Flickr